With real insects, it's quite possible, but the 12-ants tool can not, unless they're out there in an anthill!




 

Content:

1.) These little insects do not damage the MS-Surface!


Of course, these are virtual ants that have no way to leave anything on the desktop, whether you're running insects on the desktop, or fewer insects, you do not even have to worry about the desktop background from the insects is nibbled to change the desktop background.






Some useful Info:

Basically, any more complex program has software errors. Often, however, the bug has no or only harmless consequences. Most PC errors therefore go unnoticed. But because all humanity is more or less dependent on computers, bugs can have dramatic consequences. In 2003, software errors were responsible for the fact that much of North America lost power and public life came to a virtual standstill.



    



(Image-1) The MS-Surface with Windows 10 can not be damaged by this insects!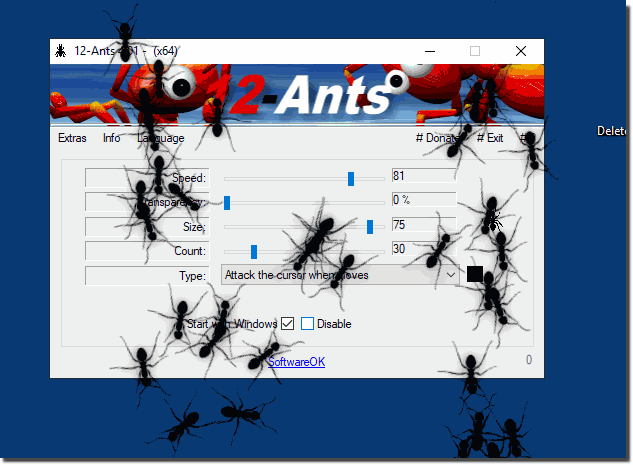 2.) Can the MS-Surface be damaged by real insects?
Yes, your MS-Surface can be damaged by small insects. These insects can lodge in the vents, keyboard or touchscreen and cause damage.

The most common damage caused by small insects is:

- Damage to the ventilation slots: If insects get stuck in the ventilation slots, they can block them. This may cause the surface to overheat, which may result in damage to the internal components.

- Damage to the keyboard: If insects get stuck in the keyboard, they can clog or damage the keys. This may cause the keyboard to malfunction.

- Damage to the touchscreen: If insects get stuck in the touchscreen, they can damage the sensors. This may cause the touchscreen to malfunction.

To prevent your MS surface from being damaged by small insects, you should take the following measures:

- Keep your surface clean and dry. Insects are more attracted to dirty and damp surfaces.

- Use a keyboard protector. A keyboard protector can prevent insects from settling in the keys.

- Use touchscreen protection. A touchscreen protector can prevent insects from settling on the touchscreen.




If you notice that there are small insects in your surface, you should remove them as quickly as possible. To do this, use a vacuum cleaner or tweezers. Be careful not to crush the insects as this may cause further damage.

If you can't clean your Surface yourself, consider having it cleaned by a professional.





FAQ 2: Updated on: 9 November 2023 17:33