Disconnecting the VHD using the disk management in Windows 8.1 / 8 or 10 is quite easy and requires no specialist knowledge!


In ordern  to delete the  VHD on Windows, you have to eject it as well in all Windows on desktop systems and also on current MS Web servers 2019, 2016, ....! 




1.) Disconnecting the VHD via the data carrier management! 
1. Start the Windows disk management in Windows 8 or 10, eg shortcut [Windows logo] + [X]

2. And in the Windows X menu select the option Disk management!

You can recognize the VHD by the blue symbol! Right-click the selection menu with the option "Disconnect virtual hard disk".

If you select this, the virtual data medium no longer appears in MS Explorer or in other file managers, such as ►  Quad Explorer for Windows !

See also: ►  ... mount virtual drives, such as ISO images, or VHD drives!



(Image-1) Detach, unmount or eject the VHD via disk management in Windows!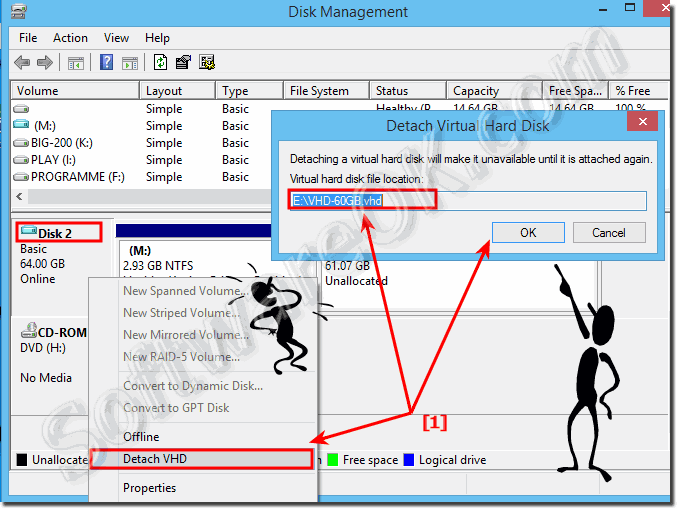 2.) Mount VHD via the command line!
If you like the command line, you can alternatively use the diskpart command to attach a VHD! 

To diskpart: ►► Use  DiskPart utility in Windows!

Mount:



select vdisk file = D:\example_path\example_vhd_file.vhd
attach vdisk




Eject:



select vdisk file = D:\example_path\example_vhd_file.vhd
detach vdisk





Detach e.g. unmount of the VHD via disk management in Windows 8.1 or 10  is quite simple and needs no skills!



FAQ 211: Updated on: 26 July 2020 12:01