Yes and it is very easy to let these little insects crawl on all MS Windows 11 OS, bug removal is not necessary!




Even with the latest

 Microsoft Windows 11

 you can still use the 

ants

to provide a short fun factor and then quickly eliminate them. It is suitable for all Windows OS from Windows 2000 to MS Windows 11 and Microsoft's Windows Server 2019, 2016, .... you don't have to do without this simple elimination of the BUGs plus deinstallation on any Windows PC!

 

Content:



1.) Simple example with the 12 ants on MS Windows 11!
1. Download the installation tool ►  12 Ants on Windows 11

2. And install and adapt without detours

( ... see Image-1 Point 1 to 3 )




(Image-1) The BUGs under Windows 11!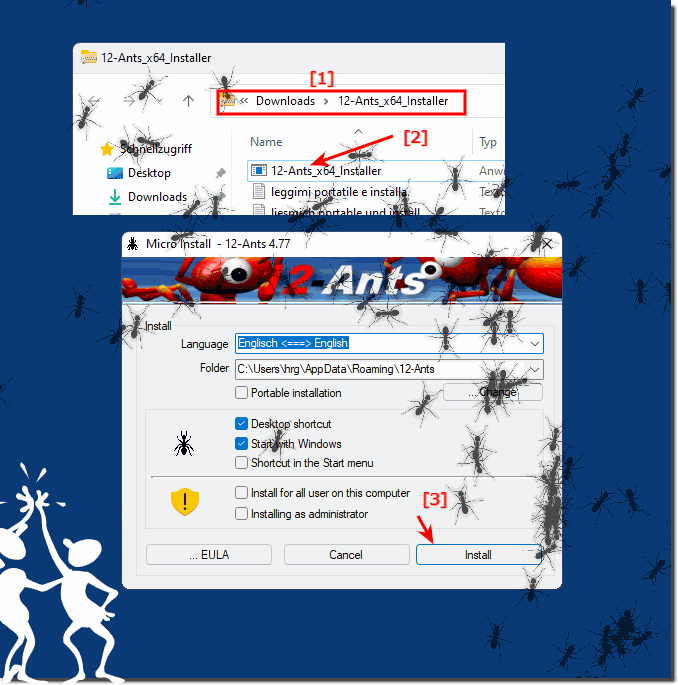 2.) What should be considered with these Windows 11 bugs?
It is of course quite annoying to have these bugs running on the windows desktop, it's beyond me how anyone could do this, I just made it for fun to see if it could be done but makes a lot of sense it really hasn't.

The ants are fun for a maximum of 1 to 2 hours or as a joke program, after that they are just annoying and then you want to get rid of them as soon as possible. However, some users have taught me better who like to use it and see it as relaxing when these buggers crawl on the Windows desktop, you shouldn't argue about taste.



FAQ 5: Updated on: 4 October 2022 08:24