Some phones like Samsung Galaxy s5 and others with Android 4.4 and higher have the Auto-Startup Manager, so you can change the autostart apps settings!
without additional software or Apps!




 

Content:


1.) The Startup Manager!
The Startup Manager is quite well hidden, open the settings on your Android phone or smart phone and scroll down to the point system and security.

In security click the Startup Manager and the app (s) autostart at boot time should not be started disable.




(Image-1) Auto-start-up Manager on Android mobile smart phone!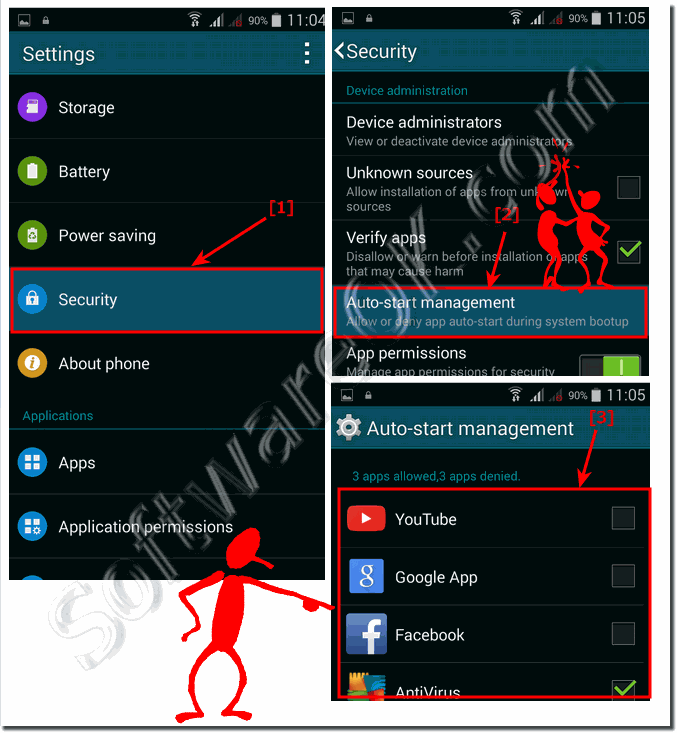 2.) Understand the Startup Manager on Android well!
Startup Manager on Android allows you to manage the apps that run automatically when the device starts. This can be useful for optimizing the performance and battery life of your Android device by controlling which apps are active in the background. However, keep in mind that the exact steps and options may vary depending on the Android version and device you are using. However, in general, most versions follow a similar process.

Here are general steps on how to use Startup Manager on Android: Open the Settings app:

On your Android device,
go to Settings. This can be done by tapping the gear icon or by swiping down from the top of the screen and selecting the gear icon.

Select the item "Apps" or "Applications": In the settings,
you will usually find a section called "Apps" or "Applications". This may vary depending on the manufacturer and Android version.

Select "Startup" or "Start on Boot":
In the app menu, you should find an option called "Startup", "Start on Boot", or something similar. Tap on it.

Disable unwanted apps:
Here you will see a list of apps that run automatically when you start the device. Disable the ones you don't need. This can help reduce startup time and improve performance.

Please note that names may vary depending on the manufacturer and Android version. On some devices, this feature may not be directly available, as some manufacturers offer their own user interfaces with different settings.

If you need specific information about your device and the Android version, I recommend that you consult your device's user manual or the manufacturer's support resources.
3.) What are the dangers of the Startup Manager on smartphones?

Using Startup Manager on smartphones can pose potential dangers or disadvantages in certain situations:

System instability:
Disabling apps in Startup Manager that may be required by the system may cause instability. Some apps may be required by the operating system to function properly. Disabling such apps may cause them to malfunction.

Missed notifications:
Some apps use autostart to run certain services in the background, such as: B. Messaging apps that receive notifications. If you disable such apps, you may miss important notifications because the apps will no longer work in the background.

Degraded user experience:
Disabling autostart apps can impact your user experience, especially if you use apps frequently. For example, apps that are supposed to update in the background may no longer work properly.

Security risks:
Some system apps or security applications may lose their functionality if disabled in Startup. This could lead to security risks as these apps provide important features such as malware protection or system monitoring.

Restrictions due to manufacturer adjustments:
Some Android versions customized by different manufacturers may not provide comprehensive startup management features. In such cases, you may have less control over which apps run automatically when you start them.





It is important to note that not all apps in Startup Manager need to be disabled. Some apps are crucial for the smooth functioning of your smartphone. Before disabling apps, make sure you understand what functionality they provide and that disabling them will not negatively impact your device's performance or functionality.







FAQ 8: Updated on: 12 November 2023 22:18