If there is no setting for the menu in the program itself, you can still display program menus more quickly on Windows 11, 10, ... etc.!




You can make the menu appear faster or slower. This can be done very quickly using the 

Windows registry editor

!  

Suitable for Windows 11 / 10 / 8.1 / 7 / XP Microsoft's Server 2000 to 2016.


Please start the  Windows registry editor  and open the subkey




HKEY_CURRENT_USER\Control Panel\Desktop\





Change the value MenuShowDelay (... see Image-1)

You can also set the value of the menu delay to  "0" , or even slower, for example with  "3000"  (3 seconds). By default, Windows   provides "400" as the menu delay. 



Then close the registry editor.

 

Log out of the Windows computer and log in again or restart the computer for the new menu settings to take effect. 






(Image-1) Change menu unfold time under Windows!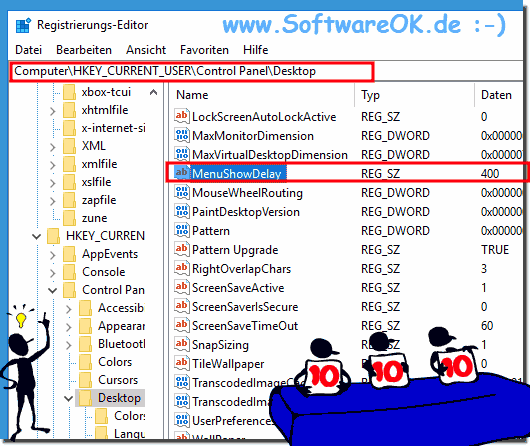 The MenuShowDelay property specifies the time in milliseconds that the system waits before displaying a cascaded context menu when the mouse pointer is over a submenu item. For example from a context menu or a menu bar, this solution is also suitable as an example for --- OS_Windows6 --- and can be implemented very quickly by any Microsoft Windows user.


FAQ 76: Updated on: 24 July 2021 13:33