Windows 11 is in the development stage, the disappearance of the taskbar icons is one of the BUGs under Windows 11!
1.) When the Windows 11 disappear the taskbars!
In order not to have to completely restart Windows 11, you can simply restart File Explorer, which is responsible for displaying the Windows 11 taskbar!
See ► 
Restart Explorer under Windows OS!
(Image-1) Before and after restarting Windows 11 File Explorer!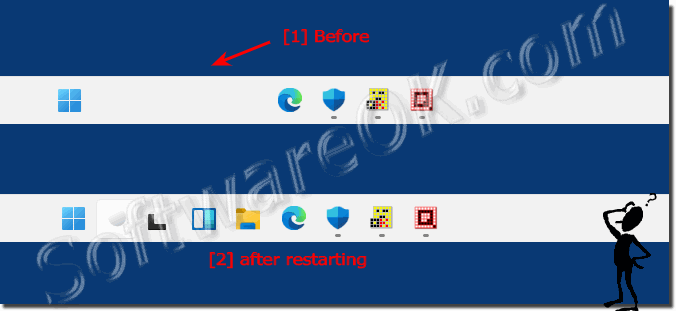 2.) More tips on the Windows 11 taskbar!
Info:
If you work on the Windows 11 taskbar for some time, you will get used to the new way of working and you will cope with the new circumstances. For me, it was already difficult for me to use the overloaded taskbar in Windows 10... But it is pure habit!
FAQ 58: Updated on: 15 April 2022 15:33