It is easy to delete a file or folder on restart from the MS Explorer right click menu, also known as the context menu!


Content:




1.) Simply file or folder from MS Explorer as a delete job when restarting! 
1. Start the ► 

Delete.On.Reboot Tool for MS Windows

as always



2. Open the "Extras" menu, activate the option

"Add to Explorer context menu"

3. Now you can conveniently delete files when restarting

(

... see Image-1 Point 1 to 5

)

PS:

Very practical, not only with Icons-Cash and the thumbnails there are deletion problems. These and other files can now be conveniently deleted with one click when restarting Windows 11, 10, ... etc. . This is only an example, but there are several files that come into question and are used for logs or as intermediate storage and are usually in use.

(Image-1) Delete at Windows Restart from Microsoft File Explorer!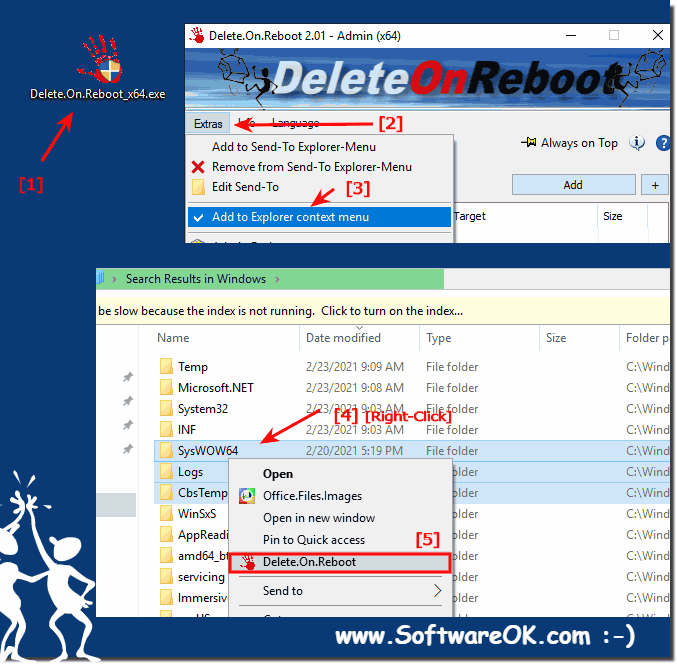 2.) What should I watch out for when adding and deleting when restarting Windows?
You shouldn't be too hasty with the deletion via the MS Explorer menu, if you can remove the entries easily!


PS:

Many of Window users have come across situations where they cannot delete a file or folder no matter how many times you tried. There are many articles that describe different ways to delete files or folders that stubbornly cannot be deleted!



Many of the methods described are unfortunately out of date or wrong:

Just let ►  the free Delete.On.Reboot for Microsoft Windows do it!


When deleting prematurely via the MS Explorer menu!


1. Please start it as always: ►   Delete.On.Reboot

2.

Select the

files and / or folders to be deleted / moved

3. Select Cancel. 

4. Optionally, all jobs can also be canceled. 

(... see Image-2 Point 1 to 3)


Deleting stubborn, non-deletable files or folders in Windows is no longer a challenge and you can do it successfully at any time!



(Image-2) Remove delete jobs from the Windows Restart!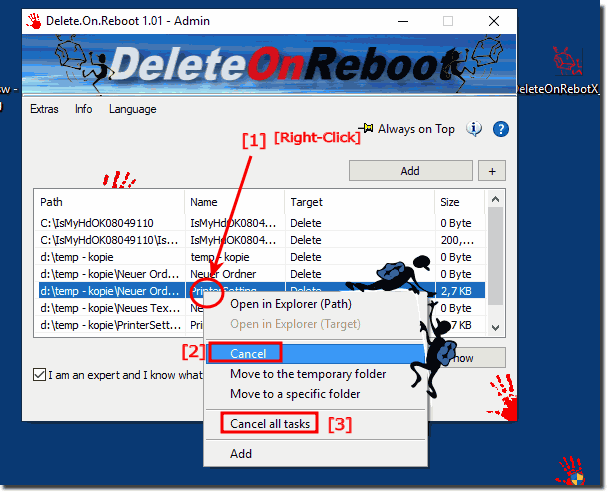 FAQ 7: Updated on: 16 July 2021 13:49