It is often the case
that
 women use smaller watches than men, here with the digital it is different!
Content:
1.) Resize the clock to fit your desktop!
Fortunately, the digital desktop clock has a fine slider with which you can adjust the size of the desktop clock individually, and there is also the option with transparency, with which the desktop clock almost completely disappears into the desktop without becoming annoying. You can of course adjust the size according to your needs.

Here in the picture, point 1 you can see the slider for the size of the digital desktop clock.

And under point 2, drag the slider for the transparency of the desktop clock, which you can adjust at any time.




(Image-1) Should I rather use a large or small digital clock?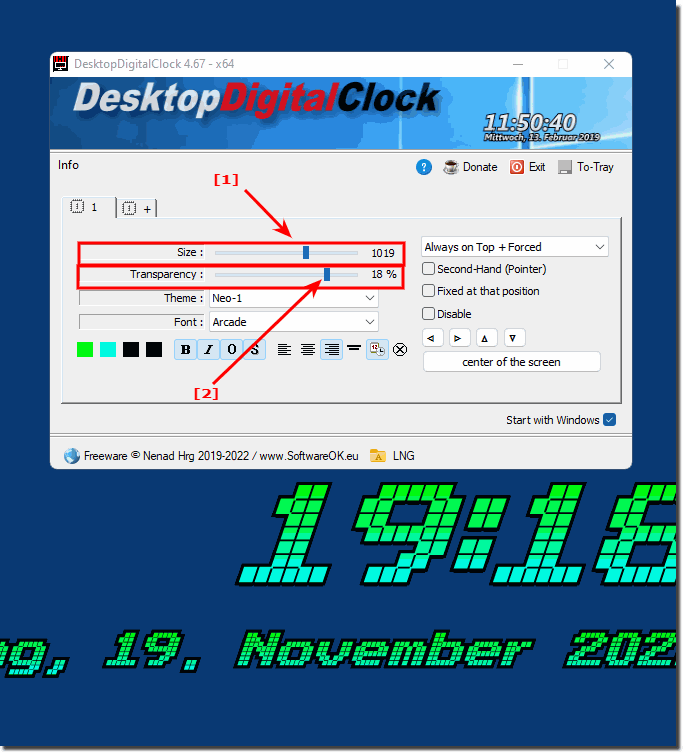 2.) Doesn't it make more sense to use a small desktop clock in terms of resources?
It is indeed the case that smaller desktop clocks also consume less energy on the laptop, but these are really minimalist values, we are not talking about milliwatts here, so the most important thing here is that the visual impression on the desktop with the clock is as pleasant as is possible.

Especially with large screens with e.g. 4K resolution, users like to use very large digital desktop clocks on their Windows desktop, regardless of whether this is the new Windows 11 or the old 10.

In short, do not hesitate when it comes to the size of the digital desktop clock your Windows desktop, set it so that it's really easy to read but doesn't cover the entire desktop.





FAQ 20: Updated on: 19 November 2022 18:20