In order to banish any other window in the notification area (To-tray) of the Windows 11, 10, ... etc. taskbar, the right-click option, on the close button must be enabled in Desktop-OK !



Content:





If you want all other Windows to minimized via mouse right click to the To-tray area, enable this option in DesktopOK, this to-tray feature is for all Windows Desktop and MS Server Operating Systems!


1.) If you want all other windows in the taskbar to disappear!

If you, for example, Right-Click the Close Button in any Windows window, it disappears in the notification area (To-tray) of the Windows taskbar! In this case, Google Chrome! (... see Image-2 Arrow-1)

To restore the window, press (click) on the icon in the notification area! (... see Image-3 Arrow-1)



 




(Image-1) Minimize programs to tray, via RIGHT-CLICK on Close Button!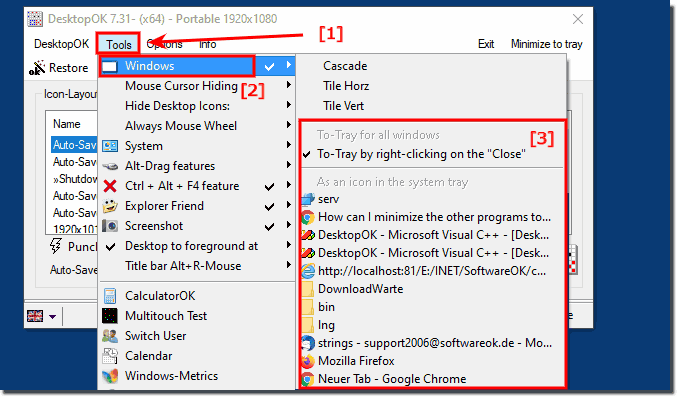 (Image-2) minimize all Windows to tray, with this Freeware!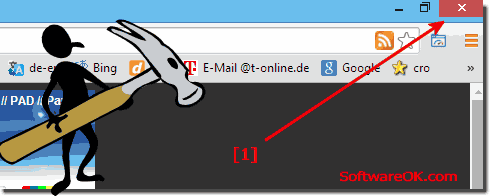 (Image-3) Restore other programs from to tray!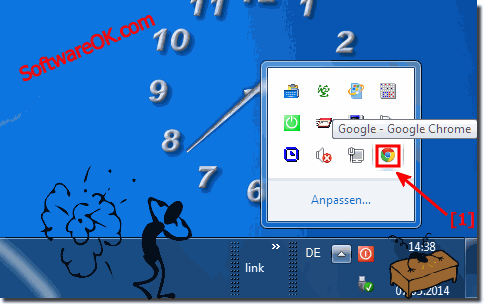 2.) Why can't I minimize some windows in Windows 10/11?
If it is a program that in Admin mode , then must DesktoOK also launched Administrative rights are!  


3.) What should I watch out for when minimizing windows under Windows 10/11?
In Windows 10, 8.1, ... the windows can be opened using the arrow button, but it also works without problems here. 



(Image-4) pen other windows in the info area by right-clicking!


4.) Are there any restrictions on the number of minimized windows?



The program currently has a maximum of up to a hundred windows. 

As a rule, this number of minimized windows is never exceeded. 

At some point you lose the overview here.

 It also works under MS Windows Server without problems! 



5.) Please don't forget admin not admin / standard user rules!


If DesktopOK is not in admin mode, it cannot minimize admin windows!












FAQ 13: Updated on: 28 August 2023 08:31