To change the Windows 8.1 / 10 indexing options, please open Indexing Options Window.




 

Content:




1.) Opening the search indexing in Windows directly! 
Open the indexing options via Windows 8.1 Control Panel!

Or via RUN-Dialog in Windows 8.1.

1. Press the key combination [Windows Logo] + [R] 

2. then just type the command control.exe srchadmin.dll [... see Image 1 Arrow-1]

3. Click Modify [... see Image 1 Arrow-2]

4. And please check the mark in the checkbox of the folders that you want [... see Image 1 Arrow-4]

Windows 8 and 8.1 indexes the most commonly searched locations on your PC to make your searches faster!
2.) Finding it in the control panel of the search indexing and linking on the desktop! 

1. Open as always ►► the Windows control panel

2. F3 and Enter "indexing"

3. Create a desktop shortcut using drag and drop

(... see Image-2 Point 1 to 4)



PS:

As you can see, it is very easy to create an effective search indexing desktop button, whether on Microsoft Windows 8.1, 10 or MS Web Server 2019, 2016, ... a very practical thing to open the search indexing even faster!

(Image-2) Find indexing options for advanced searching on Windows!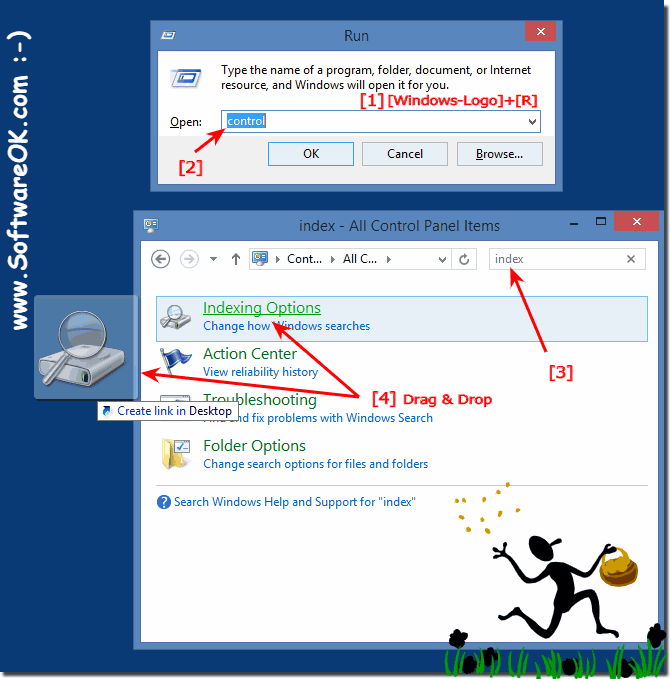 3.) ... The change of the indexing location / folder for the indexing!



1. As described above: ►►  The direct opening of the search indexing in Windows!

2. And just click on "Expand " and select  the folder "New"

3. Now restart the search index service or the Windows itself 
(... see Image-3 Point 1 to 5)

At Problems: Delete and Rebuild the Index!

►► How do you  restart the Windows utilities?
or:
►►  Shut down, restart, in the start and desktop!




(Image-3) Change the Windows 8.1 indexing location advanced searching!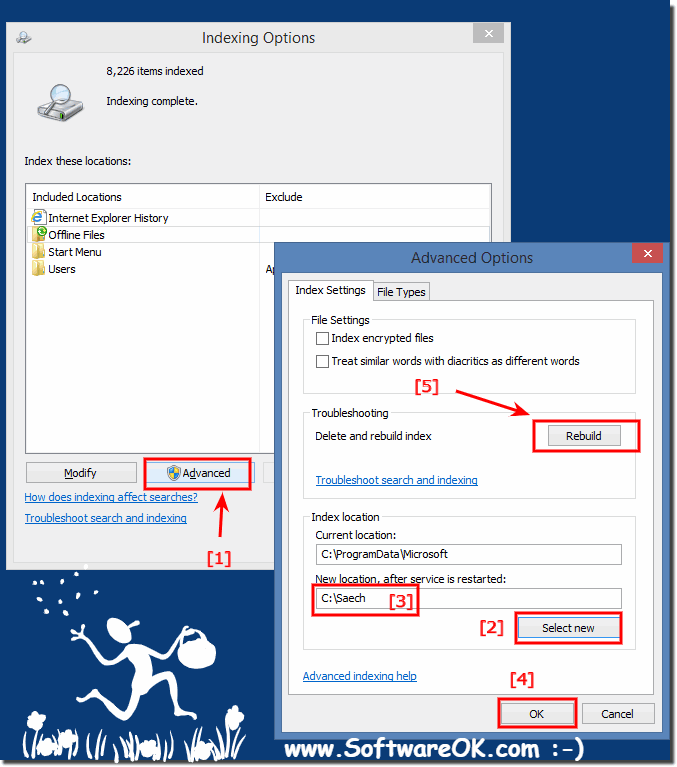 FAQ 78: Updated on: 2 February 2021 15:38