Under Windows 10 it is easy to start the search with and without subfolders in File Explorer!
Using the search box in the file explorer, you can find all your files and folders in one place and see if the search should be done in all subdirectories is also a freely adjustable option.
An example! Search eg filenames in the folder C:\Windows without subdirectories!
As you type the search box, a simple search, usually in all subfolders, starts through the search index with the text you type in the appropriate folder, if you want to search for file names without the contents of files and / or file properties.
Enter name: *.exe and just uncheck the "All subfolders" option in the "Search" tab!
The search then only displays file names in the current folder, see the search result in the file explorer.
(
... see Image-1
)
(Image-1) Search without subfolders in the Windows-10 File Explorer!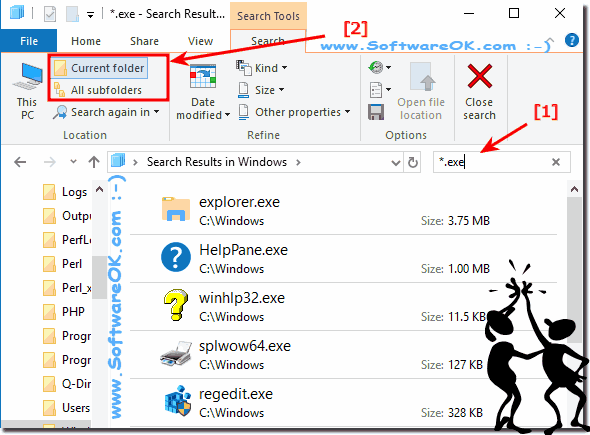 In this example, you learned how to customize the search options to search only the current folder in Windows 10 search results, with no subfolders and only file names, but only file names.
This PC search on this PC.
Current Folder: Search only in the selected folder and not in subfolders.
All subfolders:
Search in the selected folder and all subfolders. 
(Image-2) Subfolder-Current Folder-This-PC