Activating the checkboxes for marking pictures is very popular in File Explorer and not only suitable for advanced users!
Optionally, the check box for marking is  one of the preferred methods for
marking pictures in the file explorer
. So if you want to sort pictures in peace and not delete them, you also want to mark them and separate them into subfolders, i.e. remove blurry and blurred pictures, then also divide the photos into folders as desired, which is exactly the right thing if you have
clean duplicate pictures sorted out
!
Simply activate the checkboxes for marking pictures!
This is then in the top left corner of the miniature views.
1. Menu > Tools > Use check boxes to select items  
2. Click the check box to select or deselect photos.
The photos remain highlighted until the check box is cleared. Very practical, especially if you use 1, 2 or even
4 file explorers at the same time
, so moving photos becomes a pleasant task and you can finish the organizing task faster, which can be very advantageous, especially for very a lot of help a lot of holiday photos. 
Also practical: ►►  
Marking the pictures after rating
(Image-1) Activate the checkbox to mark images!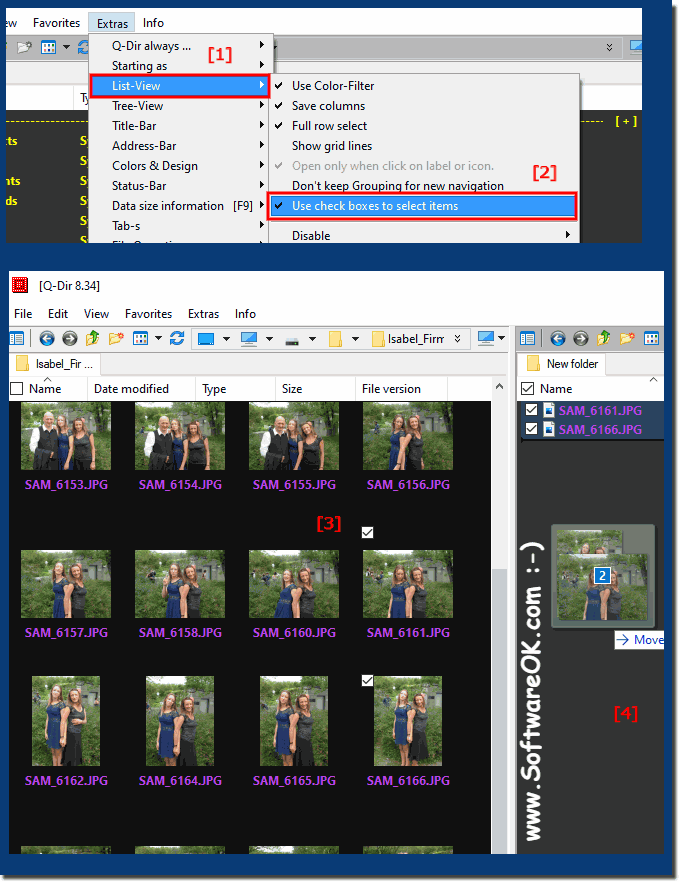 Marking the pictures by rating
You can access all tagged photos with a click of the mouse by ticking the checkbox labeled Tagged by ratings or other criteria, a method of separating to make organizing and summarizing your photos quicker so you can move the files to different folders. Checkboxes for marking pictures are very practical because you can't slip so quickly!
(Image-2) Checkbox marked according to ratings in File Explorer!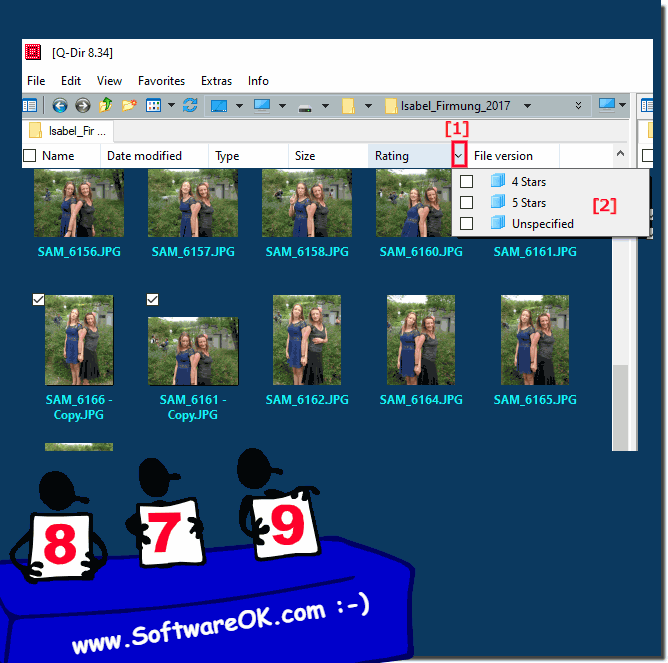 Perfect for vacation photos, to sort the experiences of an impressive trip well and then share them with friends and family. Here you can see how easy it can be. But what to do if you come home with a whole flood of pictures:


Everyone is happy when they have taken a lot of photos, sort them after returning home, these many beautiful memories on the vacation photos. You are often overwhelmed, especially when there are others 
to be compared on camera and smartphone
. It is difficult to keep an overview or to only show selected pictures.
The solution to sort and organize thousands of pictures.