The solution is easy an you can uninstall the Free Image Comparison Tool from Windows 11, 10, 8.1 or ... ! 




However, you can use this example, solution without hesitation and disadvantages for earlier and older versions of Microsoft's Windows operating systems to uninstall Find.Same.Images.OK whether it's a Windows desktop, tablet, Surface Pro / Go, or even if you have search for photos on a ms server operating system. It has been tested on all OS and successfully

verified

.


 

Uninstall Find.Same.Images.OK: (... see Image-1 Point 1 to 5)  is easy ;-)






(Image-1) Uninstall Find.Same.Images.OK from all MS Windows 10 and other!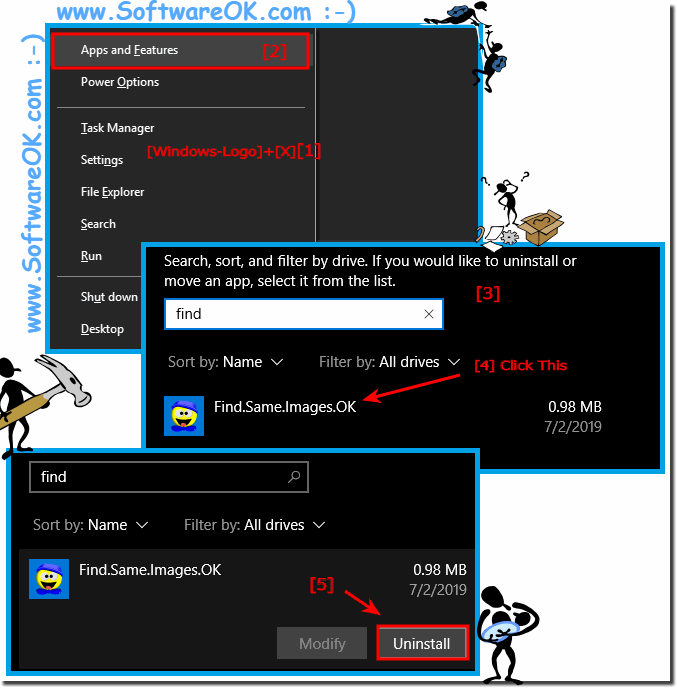 It is sometimes necessary to use this Tool to find similar files ergo images File duplicates can be detected with the free tool Find.Same.Images.OK. Is not only a stupid file name decides and primitive binary content compare to compare files. For example, Find.Same.Images.OK also finds similar images next to the same ones. The freeware Find.Same.Images.OK searches duplicate files in two selected directories or drives. The program not looks for identical file names or identical binary contents, the comparison is pixel based.

►► How To Works the comparison of the Images on MS Windows OS!?





See also: ► Remove Bad APPs from Windows-10 ► Uninstall Apps in Windows 8

FAQ 13: Updated on: 30 August 2023 14:33