Microsoft Windows NT is an operating system. The first version released was Windows NT 3.1 in 1993

NT version 3.1 introduced with the same user interface as Windows 3.1! In 1996 version 4.0 was converted to the Windows 95 desktop. Windows NT was later replaced by Windows 2000. However, it still had the Windows NT kernel. And this is almost still the case today!

The "NT" in Windows NT was originally the official abbreviation for "New Technology" in Chinese "新技术".
Here is the overview of the Microsoft Windows NT operating systems!




NT 11.0

This will be Windows 11 and MS Server 2022 but is still recognizable as 10.22000.xxx 



NT 10.0
Windows 10, Windows 10 Mobile, Windows Server 2016, Windows Server 2019

NT 6.3
Windows 8.1, Windows Phone 8.1, Windows RT 8.1, Windows Server 2012 R2

NT 6.2
Windows 8, Windows Phone 8, Windows RT, Windows Server 2012

NT 6.1
Windows 7, Windows Embedded 7, Windows Server 2008 R2, HPC Server 2008 R2, Small Business Server 2011, Home Server 2011, MultiPoint Server 2010, MultiPoint Server 2011

NT 6.0
Windows Vista, Windows Server 2008, Small Business Server 2008, Essential Business Server 2008, HPC Server 2008

NT 5.2
Windows Server 2003, Small Business Server, Compute Cluster Server, Home Server, XP 64-Bit Edition 2003 for Itanium, XP Professional 64-Bit Edition for x86-64

NT 5.1
Windows XP, XP 64-Bit Edition for Itanium, Tablet PC Edition, XP Embedded, Windows Embedded 2009, WinFLP

NT 5.0
Windows 2000 Professional, Windows 2000 Server

NT 4.0
Workstation, Server, Terminal Server, Embedded

NT 3.51
Workstation, Server

NT 3.5
Workstation, Server

NT 3.1
Advanced Server




 Example Windows XP 64 bit


The little-known Windows XP 64-bit, which was only available in English, was released in 2005 as Windows XP, it can hardly be distinguished from normal Windows XP, only that 64-bit applications work here, some of which I still occasionally test out of curiosity today. Since Windows Vista came out shortly thereafter, there was no German version of Windows XP x64!

 


(Image-1) The MS Windows XP x64 Edition!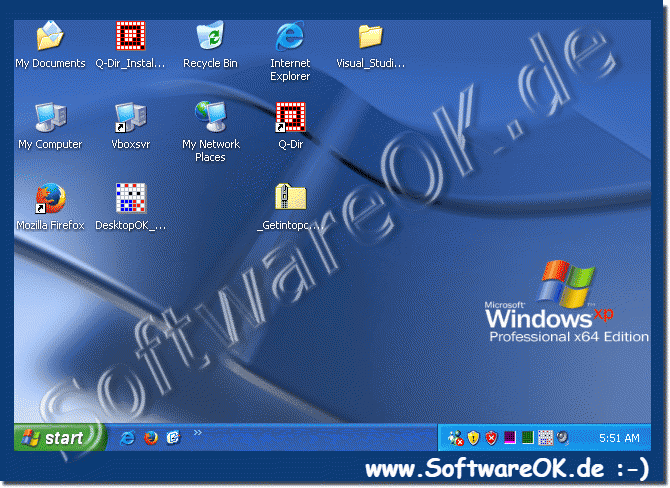 FAQ 193: Updated on: 16 July 2022 06:41