After installing Windows 10 from Microsoft, many ask where is the old IE internet explorer / browser!
Windows 11 is without Internet Explorer!
You do not have to download and install Internet Explorer for Windows 10.
To enable Internet Explorer 11 in Windows 10, please use OptionalFeatures.exe
This address (program) can be entered via the address bar of the Explorer (shortcut Windows + E).
Or Windows Run Dialog (key combination Windows + R) ( ... see figure-1 arrow-1 ).
In the Windows functions you can now activate the Windows-10 Internet Explorer 11! ( ... see picture-1 arrow-2 ).
See also:
... Edge on the desktop and quick launch bar as a shortcut under Windows 10
!
In the current version of Windows 10 there is a new integrated browser. However, many users are more comfortable and more familiar with old IE and are happy to work with it.
(Image-1) Activate the Internet Explorer on Windows 10!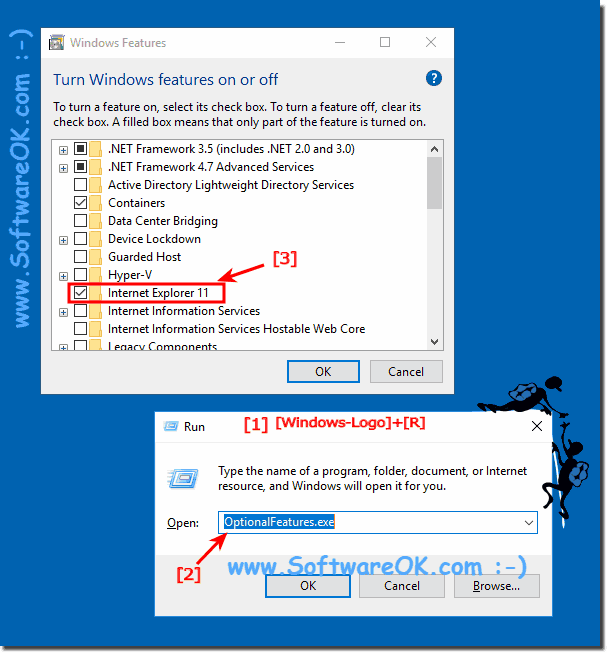 Although there is a new Microsoft Edge browser in 10, the old standard browser can also be useful: it is more common, and in some situations, it runs websites and services that do not work in other browsers. 
These instructions on how to enable Internet Explorer on Windows 10 and place its icon in the system tray or on the desktop is very simple. If this method does not work, reinstall Internet Explorer in Windows 10 or disable it. then reactivate and accept, or press OK.