The desk.cpl ,,5. in Windows 10 / 11 ist one of the most used commands, not only on Desktop Computer but also on Surface and Tablet-PCs!
The desk.cpl ,,5:
Via
"desk.cpl ,,5"
 is simple to Show My-Computer and Control Panel on the Desktop, for example to have a fast aces over the touch screen via
Desktop Icons
, this 
"desk.cpl ,,5"
command is also suitable for Windows 8.1 and Microsoft Server 2022, 2019, 2016, ...! Easy start it via Windows + R Key and enter 
"desk.cpl ,,5"
+ [OK]!
(Image-1) Desk.cpl ,,5. in Windows 10 Desktop Icon Settings!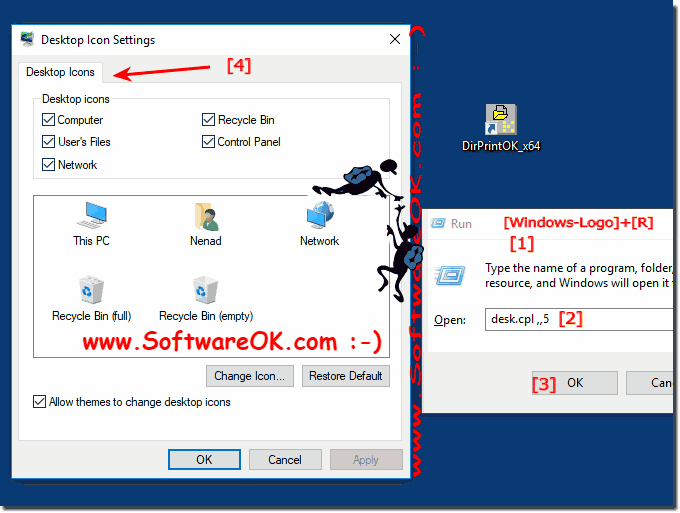 The Icons are small pictures on the Windows NT Systems that represent files, folders, apps, programs, and other thinks. When you first start Windows, you'll see at least one icon on your desktop: The Recycle Bin. 
Info:
You can easily use this simple and fast access via "desk.cpl ,,5" as a solution to change the Desktop Icons Settings on all Windows 10 and on older versions of Microsoft's Windows operating systems, whether it's a Windows desktop, tablet, Surface Pro / Go, or even a ms server. 
What can I do if I still have problems when MS 
"desk.cpl ,,5"
 - is a frequently asked question Restart the Windows operating system, 
please perform a proper Windows reboot
.