Under MS Windows OS, whether desktop or server, the shadows on the icon titles can be very annoying with some fonts, but deactivating is also easy!


Working without shadows on the symbols is possible with all Windows 11, 10, ... desktop and MS server systems!



 

Contents:




1.) Disable font shadows under Windows 11, 10, ...!
Please open advanced system properties of MS Windows OS

1.  [Windows logo + R]  key combination and with the command  sysdm.cpl 

2. Select the tab (Tab)  Advanced  

3. Select or open the  performance options

4. Performance group and the  Settings  button
5. And in the 
"Visual Effects"
tab, deactivate  the check box and
Deactivate transparent background for icon fonts on the desktop" or activate if necessary
(
... see Image-1 Point 1 to 7
)
(Image-1) Easy remove the shadows on the icon title fonts!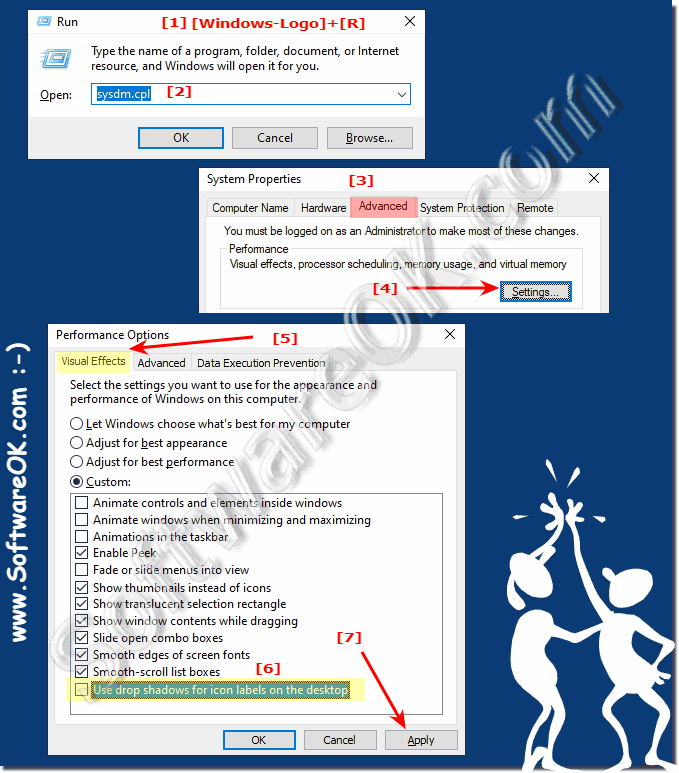 2.) What happens if I work under Windows without font shadows?
If you disable this feature, the desktop icons are displayed without shadows but has no effect on saving and restoring the desktop icons .

The text is slightly easier to read, users with poor eyesight in particular have problems with shadows under the symbols, because this also affects the readability of the text.



3.) Other related tips for MS Windows settings!
FAQ 19: Updated on: 4 June 2022 09:07