Create a private browsing shortcut for Microsoft Edge Chromium under Windows 11, 10, ... or MS Server OS!
1.) Creating the shortcut for private surfing with MS Edge!
With the parameter 
-inprivate
you can start MS Edge directly in private mode, if you don't want to open a private window with the keyboard shortcut 
Ctrl + Shift + N
, or via the
"..." menu
in the right area of ​​MS Edge!
1. Keyboard shortcut
Windows + D
to focus the desktop   
2. Click on a free space on the desktop
3. As always>
New
> Create
shortcut
4. As target
"C:\Program Files (x86)\Microsoft\Edge\Application\msedge.exe" -inprivate
5. As a name for example 
Privat Edge
(
... see Image-1 Point 1 to 9
)
(Image-1) MS Edge shortcut for private surfing under Windows 11!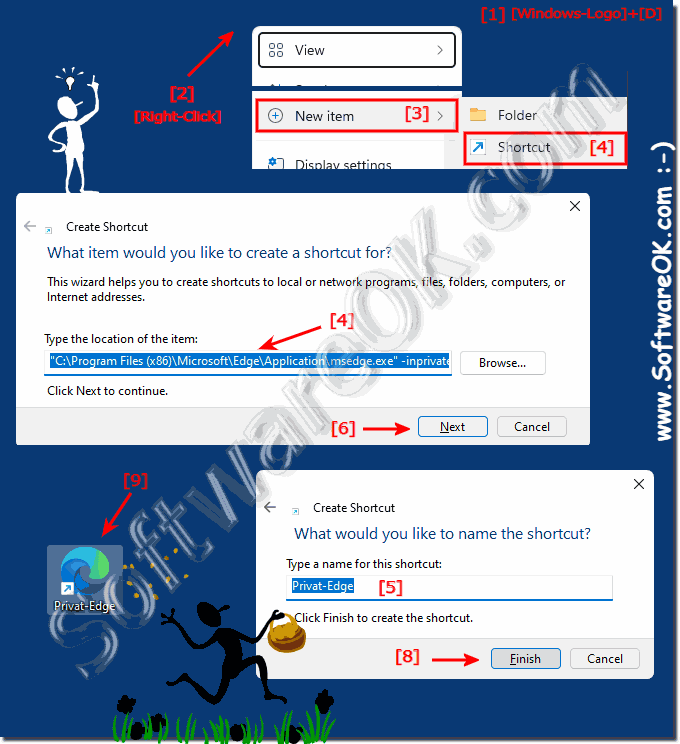 2.) Why do I need private surfing under Windows 11, 10, ...!

InPrivate Browsing Mode is a special privacy-oriented mode from Microsoft Edge. When you open an Edge window with InPrivate Browsing enabled, the browser does not save cookies, temporary internet files, history and other data related to your browsing activity. You can create a special shortcut to open a new Edge InPrivate window directly with one click.