Understand user profile, user, user account under Windows 11, 10, 8.1 and other Microsoft desktop and server operating systems!
A user profile consists of a series of files and folders in which all personal settings, app settings, documents and other data are stored
.
A user profile is assigned to each user account.
Usually it is stored in the folder C:\User\username and contains a number of subfolders such as desktop, documents, downloads etc., as well as hidden folders such as AppData, in which the settings for various Windows functions and installed apps are stored. This is good to know, for example. if, Change the Administrator user account on Windows 10!


Content:
1.) The main purpose of the user profile!
The main purpose of the user profile is to create a personalized environment with individual options that are tailored to the end user.
Here is
an user profile folder
, desktop, favorites, pictures, own documents, start menu settings, templates, register entries, videos, music, ... etc.
(Image-1) An user profile under Windows 10 created on drive D!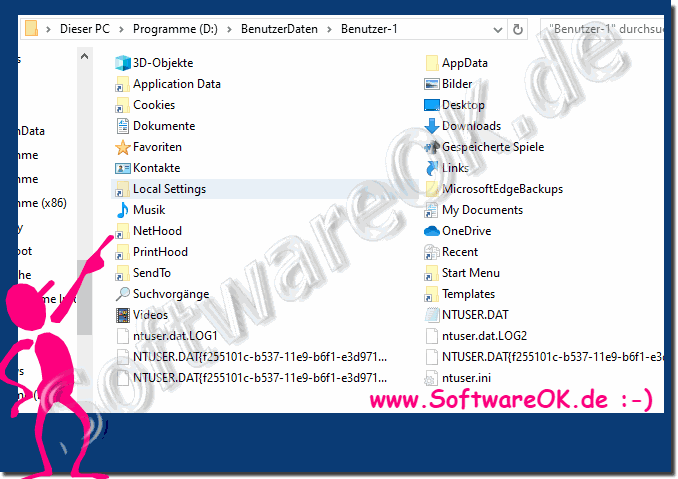 Windows 10.8.1 stores all user preferences and settings in a user profile.
The user profile is a folder in C: \ Users \ It contains all account settings, such as the selected desktop wallpaper, the screen saver, the options of the file explorer and many others.



2.) View all personal settings!
I have briefly explained the difference between user and account names, whoever read this has actually understood everything.

above ( ... see Image-1 ) it is self-explanatory, even if the user profile has been created on drive D and all settings are saved here. 

PS: the first account / user, whatever you call him, you may also want to leave c:\, in the worst case it can prove to be helpful and foresighted.   

3.) What is special about this and why do I need to know that!
Well, as someone who always contacts someone when the Windows 10, 8.1, ... computer doesn't work, you don't need this knowledge, but if everyone were like that, we would drive another 1000 Years VW Diesel and complain that we no longer can breathe.

The knowledge of user accounts is of course to be enjoyed with caution and you should slowly work your way in to be able to fix the problems with the user accounts, make possible backups and simply expand your knowledge, especially since you have a lot of IT knowledge in every profession can better gain a foothold, nobody can sell you water as wine, or turn down a "cheat software", simply put, let's not be fooled.


Regardless of whether it is a
standard user who becomes the administrator
, or a
standard user is made a guest user
 and vice versa, the helpful knowledge to the user, account, user, ... profiles is advantageous and brings a beginner a step further in understanding its operating system, which incidentally someone invented in the 90s, and which has therefore hardly changed for decades, ergo, it's nothing new.