The solution is very simple to define the mouse tracks yourself in MagicMouseTrails or to change the texture!


Everyone is familiar with the Windows standard mouse pointer,  but this is about something else, these are the famous mouse tracks that everyone can use for free, once installed you never want to miss them again, so it makes more sense to know how to change these mouse tracks can, just experiment with the mouse tracks and benefit from the long mouse tracks forever on Linux and Mac.

Content:


1.) Rearranging the mouse tracks and the order!
If you want to change this, simply

click

on the "....." button and select the individual mouse tracks textures!
(... see Image-1 Point 1 and 2)

Please if possible :: ►  ... always use the latest version of Magic Mouse Trails for Windows ! 



(Image-1) Define the mouse trails on Windows itself!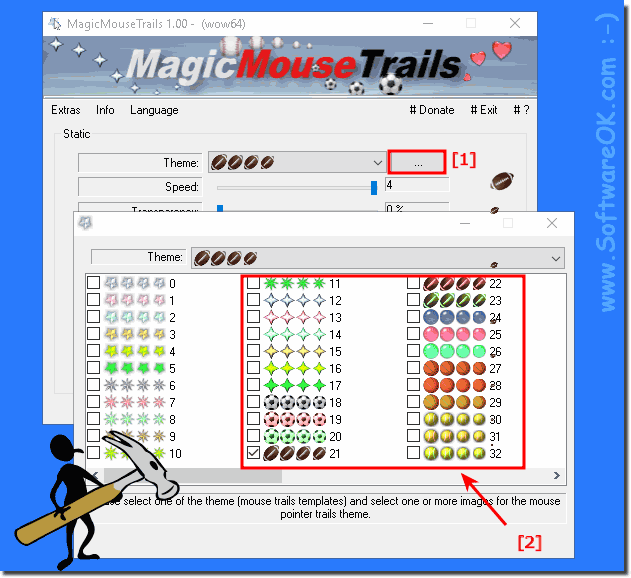 2.) What should I watch out for with this type of mouse tracks on Windows?
It is important that you do not over-stimulate the visual appeal as a mouse trail beginner, otherwise the program is very invasive, which leads to it being annoying with subtle little mouse tracks that do not outperform the standard Windows mouse tracks many times Users who use it for the first time exaggerate with the mouse trace effects, which makes it annoying and you don't want to use it anymore!


3.) Are there any restrictions on the mouse tracks? 
As you can see, the virtual mouse tracks are very easy to adjust and bring joy to any Windows system.
No matter whether you use these virtual mouse tracks under Windows 10 or other MS Windows Server and NT systems.
The choice of mouse tracks is your own decision, as well as the length, type and speed of the mouse tracks.


FAQ 2: Updated on: 12 June 2020 20:00