The solution to
select multiple text pieces of Text

can be very helpful, when editing the Text in MS-Word.

Contents:



1.) Marking text in Word that is not consecutive!
Please select the first section of the text by holding down the left mouse button and mouse-dragging, for the second text selection, repeat the procedure but please hold the Ctrl key down.

This feature works also in free Open Office Write!



(Image-1) Selecting multiple pieces of Text in Microsoft-Word!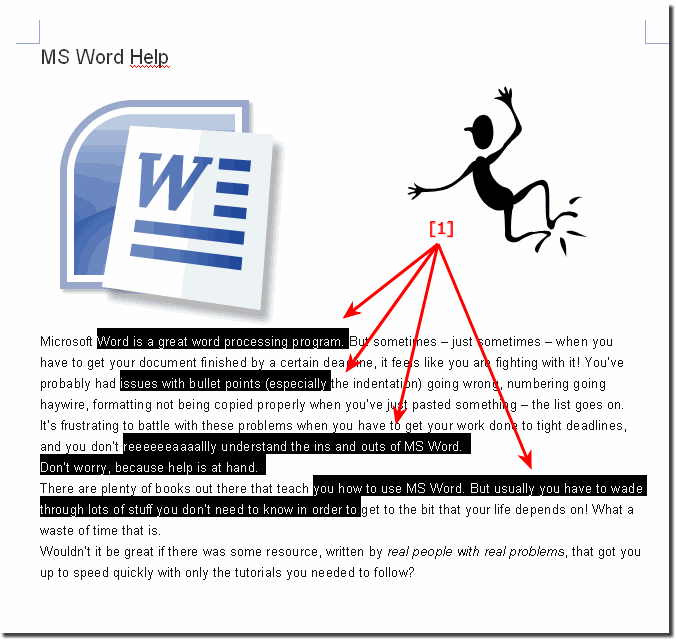 How can I highlight multiple sections of text in MS-Word!

Please select the first piece op text for second text selection please hold down the CTRL Key and select it.

2.) Further information and the purpose of marking text in Word spread over several sections!




It makes sense to mark several sections. There are several reasons why you might want to highlight multiple sections of text in MS-Word. How to make changes to multiple sections at once. If you e.g. For example, if you want to change the font size of all sections in a document, you can select all sections and then change the font size.




To copy or move multiple sections. You can select multiple sections and then press CTRL+C to copy them or press CTRL+V to move them.

Of course, whether it makes sense to highlight multiple sections of text depends on the specific needs of your document. In some cases it may be easier to edit each section individually.

Highlighting multiple sections in a Word document can be useful in various other situations depending on your specific needs and goals. Here are some reasons why you might do this:

General formatting:

If you want to apply the same formatting to multiple sections in your document, you can select them at the same time and then make the formatting changes you want. This saves time and ensures consistent formatting.

Copy and paste:

If you want to paste sections or passages of text from different parts of your document to another location, you can select them at the same time and then copy and paste them to the desired location.

Edits:
If you want to edit, move, or delete sections of text, you can mark them while performing desired actions to increase efficiency.

Grouping elements:
In Word you can mark not only text, but also images, tables and other elements. Selecting multiple elements allows you to treat them as a group, which can be particularly useful in terms of arrangement and layout.

Highlights and comments:
If you want to highlight or comment on related sections, simultaneous highlighting is useful to ensure that your annotations or highlights are applied to the correct sections.




Whether this makes sense in your specific case depends on your individual requirements and tasks. The ability to highlight multiple sections at once can greatly improve your efficiency when working with Word documents, especially large or complex documents.





FAQ 1: Updated on: 12 October 2023 20:30