Not only under Windows 11 but also Win 10, with the latest version you can have the desktop background changed automatically every day if you want it!




Everyone probably knows how ► 

easy it is to change the Windows 11 desktop background

, why not if it's so easy, but now in the new version of Windows 11 and 10 there is the option to automatically display the lock screen background images on the desktop . This is now a revolution in the number of desktop background images.


Contents:




1.) Switching to the new desktop background option!
1. As always, start the settings with Windows + i

2. Now click on  Personalization  << on the right side

3. >> on the left side >> on the Background 

4. And now simply switch to Windows Spotlight << points of view

(... see Image-1 Point 1 to 6)



(Image-1) desktop background changed daily in Windows 11!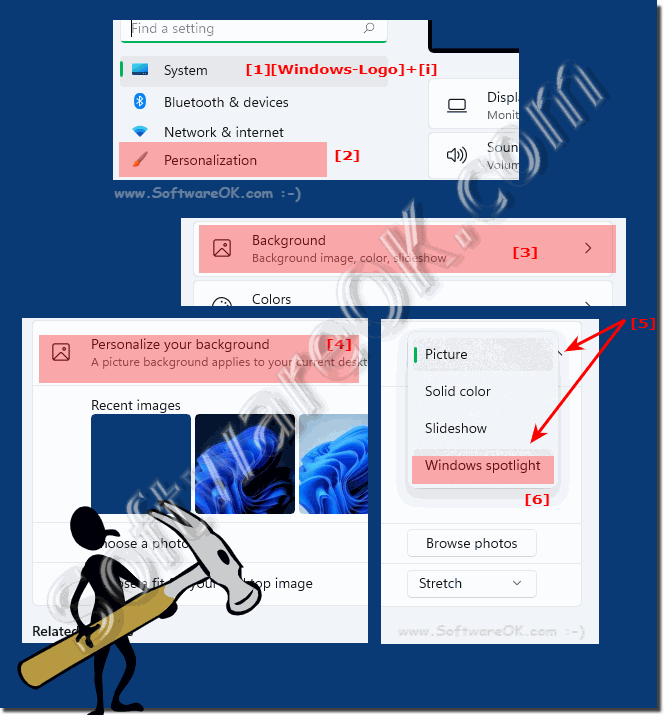 2.) Why and why change the desktop background every day?
The Windows Spotlight (spots) on the desktop does not show the tips and advertisements on the lock screen, or to learn more about the current picture. If it doesn't inspire you that much, you can still use a plain custom image or solid color,... instead.
Adding automatically changing wallpapers was a request from many users. Luckily for all those who could hardly wait for the new functionality, it really wasn't long in coming, now the time has finally come, the pictures are exchanged automatically.


3.) More tips for desktop, background, and Co. on MS Windows OS!
The desktop is also an important contact point under MS Windows 11, which many users meticulously keep in order. It is questionable whether the constant changing of images on the work-oriented desktop is the right choice at all. But fortunately you can decide for yourself. Here you can find more helpful information about the desktop on Windows Desktop and Server OS.
     








FAQ 210: Updated on: 26 August 2023 07:14