It is not easy to
treat day and time as text in Excel

and adding days to it, but not impossible!


Content:




1.) How to format a date in Excel as text
1. After the table is opened in Excel  

2. You need the correct conversion from the Windows file time ,
which usually looks like this

06.10.2018 16:14


  
3. The correct conversion and add a day to it = TEXT (G4; "DD.MM.YYYY hh: mm") + 1

So always keep in mind the rules in MS Excel ;-) then it works not only with the neighbor, but also with

complex date or time formats

!

PS: don't forget to set

the date format for the columns.

Here in the example, G and J on: DD.MM.YYYY hh: mm

(Image-1) Excel day time treat text and add days!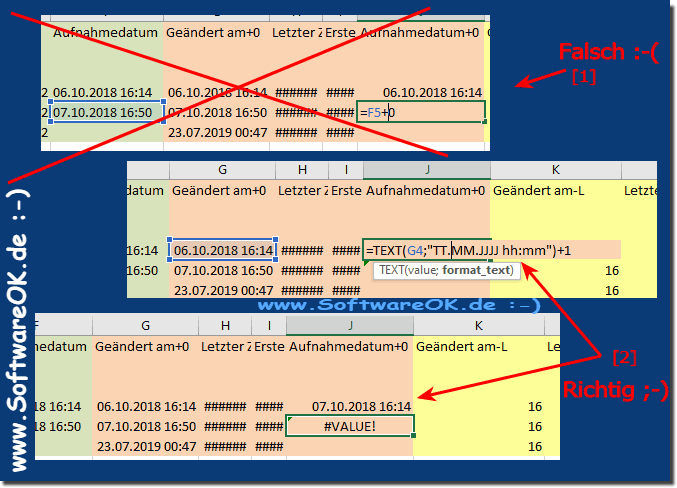 2.) Set the correct date format for the columns!
At the bottom of the picture column G: DD.MM.YYYY hh: mm 
(
... see picture-2 points 1 to 6
)
(Image-3) Excel day time set correct time format for columns!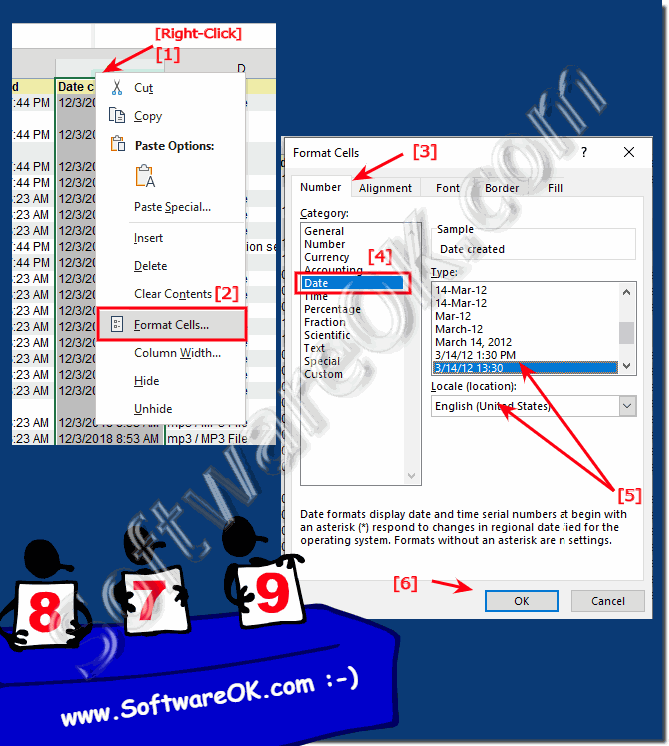 Info:
Dates and times in Excel are saved as numbers and quickly converted into human-readable values ??using number formats. When entering a date in Excel, you can use a
number format
to display that date as desired. Similarly, you can use the TEXT function to convert a date or time into text in a preferred format. For example, if the date January 9, 2000 is entered in cell A1, you can use TEXT to
convert
that date to the following
text strings
as follows :

= TEXT (A1, "mmm") // "Jan"
= TEXT (A1, "dd / mm / yyyy") // "01/01/2020"
= TEXT (A1, "dd-mmm-yy") / / "01-Jan-20"



FAQ 19: Updated on: 11 May 2021 14:13