There are several ways to add a custom title to a spreadsheet in Microsoft Excel, which is very good!


Titles aren't just for filenames. You can place a title directly over your spreadsheet data. Header or description line in Excel spreadsheet can be helpful!  


Contents:


1.) Adding a Header in Excel!
1. To add a header, click the "Insert" tab at the top left of the workbook.
2. On the Excel ribbon, click Insert .
3. Click the "Text" menu to the right of the ribbon and then click the "Header & Footer" option .
PS
You will be zoomed out of the workbook so you can see all your data on one page. Then return to normal view.
4. Click Text and then click Header & Footer .
Using a table header in Excel is easy, if you return to the default view of the workbook, click the ►
Normal page layout
icon at the bottom of View.
(Image-1) Header and footer in a MS Excel spreadsheet!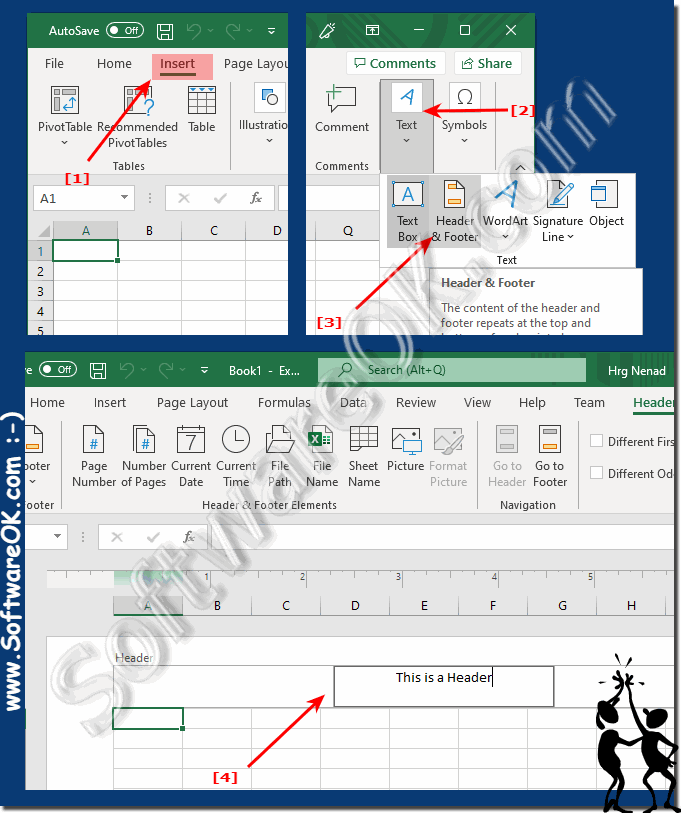 2.) What should be considered when adding the header in MS Office Excel?

When you return to the "Normal" workbook view, you will notice that your text is not displayed. In Excel, these headings are not displayed while you are working in the workbook. However, they will appear as soon as they are printed.

(... see Image-2 Point 1 to 3)



(Image-2) Excel table view normal!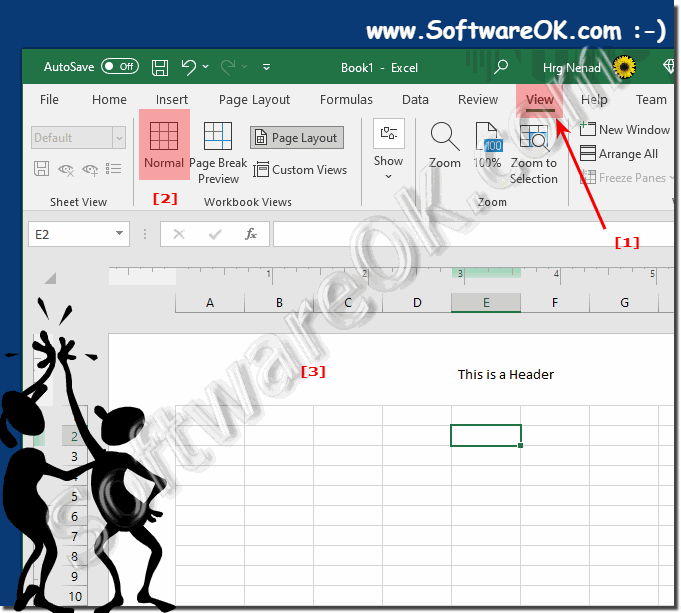 PS:
Your Excel spreadsheets can benefit from page headers and fixed column titles, also called description rows. They allow readers to follow your pages and understand the content more easily as the descriptors are set as the reader scrolls through the table. You can easily add fixed rows and headings to your spreadsheet using the tools available in Excel.




3.) What are headers in MS Office Excel?




In Microsoft Office Excel, the Header and Footer option allows you to add text, numbers, dates, page numbers, and other information to the top (header) and bottom (footer) of a printed page. These headers and footers appear on each page of a printed worksheet and can contain useful information for documentation, reports, or print settings. Here are some of the most common information placed in headers and footers:





Page numbers:
You can insert page numbers in headers or footers to show users which page of a multi-page document they are on.

Worksheet or file name:
You can include the current worksheet or file name in the header or footer to tell users which worksheet or file they are viewing.

Date and Time:
The current date and time can be inserted into headers or footers to indicate when printing will occur.

Custom Text:
You can add custom text or captions in headers or footers to provide specific information or notes about the table.

Graphics and logos:
It's also possible to insert images, graphics or logos into headers or footers to customize the appearance of your printed documents.



Info:

Using headers and footers in Excel is helpful for making printed documents look more professional and adding important contextual information. You can usually find the Header and Footer option in Excel's print settings, and from there you can add or customize the text and elements you want.





FAQ 54: Updated on: 4 October 2023 10:36