You can easily create a security center shortcut on the Windows 11 and 10 desktop for Windows security!
Windows 10 offers the latest virus protection with Windows security.
When you start Windows 11/10 for the first time, Windows Security is enabled and actively protects your device by scanning for malware and other malicious software , ransomware , viruses, and security threats.
In this tip, you will learn how to
create
a shortcut to the Windows 10 Defender Security Center in Windows 10, or even download it. 


1.) Windows 11/10 Desktop shortcut for the security center
1. Press the Windows logo + D key combination to see the desktop!
2. By clicking on a vacant space, the selection menu appears,
3. here simply click on
New
and
link,
in the first window enter the command:
%windir%\explorer.exe windowsdefender:
or:

C:\Windows\explorer.exe windowsdefender:


As a name in the second window you can
 assign
Security Center
, or simply the abbreviation
SC


The procedure is slightly different than: ►  ... Windows 10 desktop shortcut for programs !



(Image-1) Creating a Security Center Shortcut on the Windows 10 Desktop!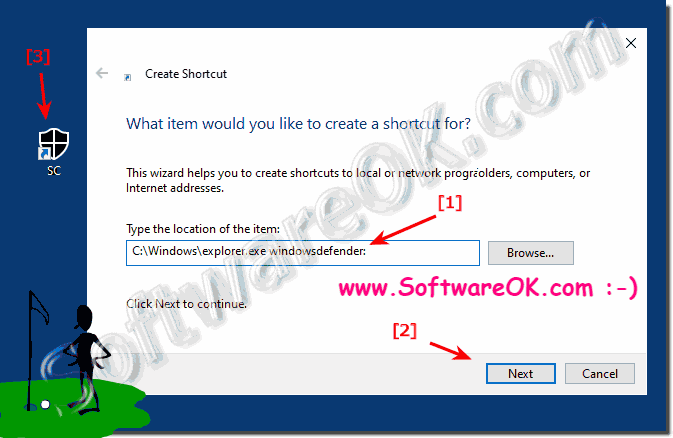 Info:
You can easily / simply run this example to create "Security Center Shortcut on Windows 10 Desktop" on other versions of Microsoft's Windows 10
Home and Professional
operating systems
 .
What can I do if I still have issues with "Security Center Linkage" is a frequently asked question. Restart the Windows operating system, 
please perform a correct Windows restart here
.
After that the problem with "security center linking" does not exist! 


The classic Windows Defender
:
Many users are used to the classic Windows Defender and would like to get it back.
Security threats are one of the main concerns of today.
Because of this, Microsoft has been trying to build Windows 10 to be the most secure version of Windows ever.
Therefore, do not look for a guide to restoring from Classic Windows Defender in Windows 10 to Creators Update for easy recovery.
If you want to use the old version of this integrated security tool, there is no solution.