The solution is very easy to
place Excel, Word and other Office programs in the Start menu

of Windows 10!



Start the command

shell:Common Start Menu

, or shell:Start Menu via the Windows 10 Run dialog, eg shortcut Windows + R. 




(Image-1) Excel, Word and Office in the Start menu Win 10!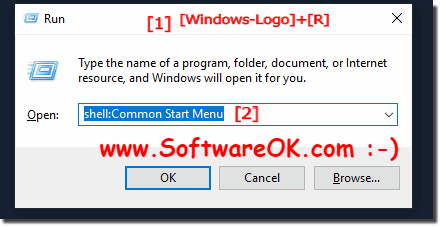 In the Start folder, please open the subfolder Programs .

Mark only one file, eg Excel with the right mouse key and  pin to "start"  

Repeat the process for Word, Outlook and all, the should appear in the start menu.



(Image-2) Excel, Word and MS-Office in the Windows 10 Start!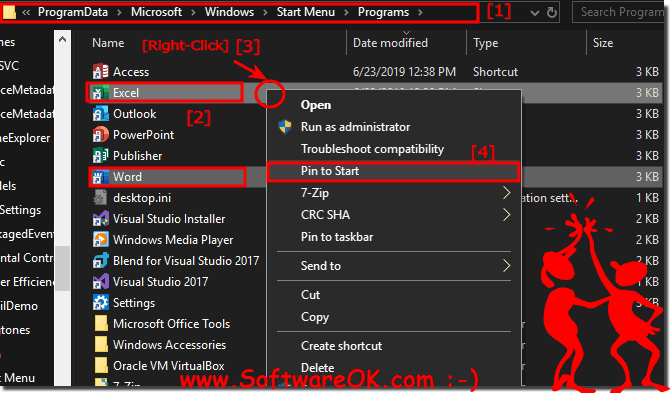 Now the MS Office are in the Start menu of Windows 10, just drag and drop them into position (drag and drop), now you have a quick access for the often used programs!

Tip: By right-clicking on unnecessary start entries, you can also remove the unnecessary ones immediately. 


(Picture-3) Office-in-Start Menu-from-Windows-10!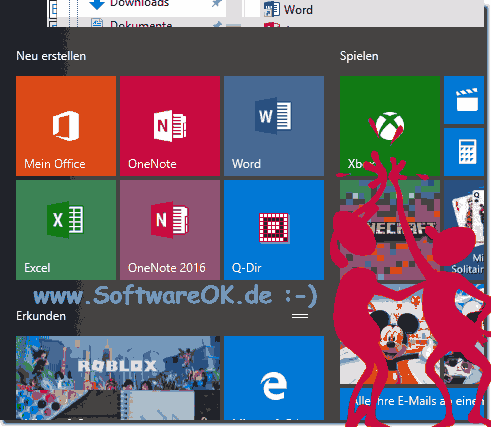 Info:

In Windows 10 you can create your own tiles for the start menu. For example, you can create links to Web pages, files, folders, and other documents, and then open them using a custom tile in the Start menu with just one click. We show how it works for MS-Office Excel and others.  The settings tile can be dragged from the Start menu on the desktop, but it then links only to the Windows settings and not to specific menu items. In addition, unfortunately you can not pull any settings via drag & drop into the start menu. Here Microsoft could still improve.



FAQ 8: Updated on: 11 May 2021 14:15