It's easy to eject, open, and close the drives using the desktop shortcut on all MS Windows 11, 10, ... etc. Desktop and Server OS!




 

Content:




1.) The simple desktop shortcut for ejecting, opening, closing on MS OS! 
The simple desktop shortcut is very popular with Windows users, which can be created by the program itself, (... see Image-1 Point 1 to 3) but now you can also eject the drives using this shortcut. #i1

Now you can very easily ( ... see Image-2 ) open, close and eject drives via the convenient desktop drive selection menu.





(Image-1) Passive ejection of external hard drives and drives!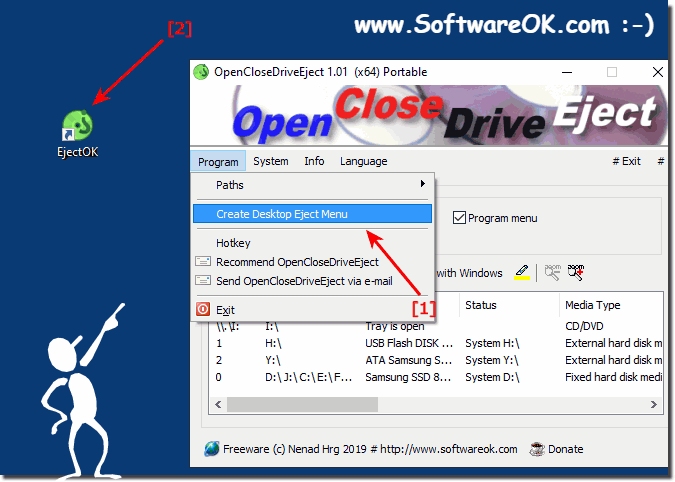 (Image-2) Passive ejection of external hard drives and drives!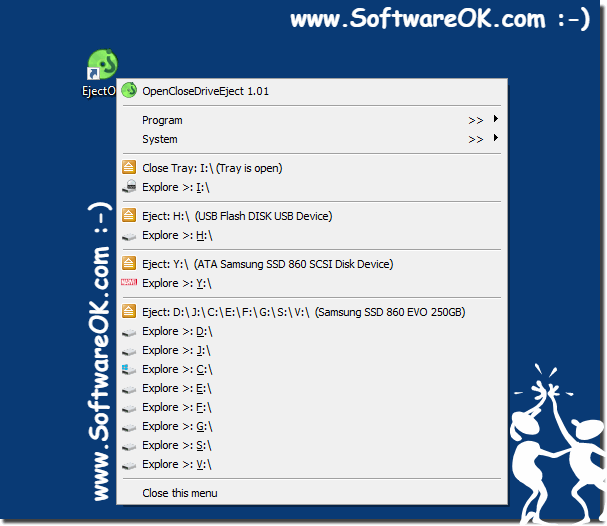 You have probably heard that you must always use the Safely Remove Hardware icon before removing a USB device. However, there is also a chance that you unplugged a USB device without this option and everything worked fine, and Windows itself tells you that if you have certain settings that you are using the defaults, you don't need to use the Safely Remove Hardware option the advice provided by Windows is misleading.



2.) Why the external tool if there is already a possibility under MS Windows?
You can also live without ► the free drive eject tool for MS Windows, but you can't find everything under one roof even under the current Windows desktop and server operating systems; the safe removal of drives and opening of DVD, Blue-Ray drives is becoming more and more important a regular and simple procedure as provided by Microsoft under Windows.

With this little tool you can open the drives directly in relation to drive to drive name, which can be very time-consuming with normal Windows on-board tools until you can see on which drive the corresponding partition is!

(... see Image-2)


3.) ... How can I minimize the tool in the info area of ​​the task bar?




1. In the program on the To-Tray button 

2. Left click on the To-Tray symbol in the  taskbar

See also: ►  Help, some symbols are missing in the notification area of ​​the Windows taskbar!




(Image-3) Eject, open and close the drives via the info area!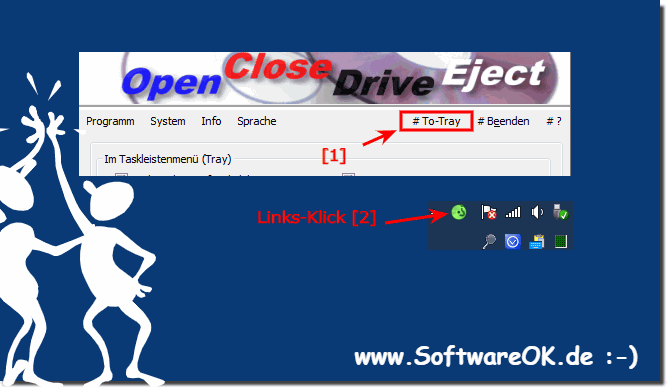 FAQ 5: Updated on: 19 July 2021 10:35