It is very popular to simply empty the recycle bin, using the command line and PowerShell on all MS Windows 11, 10, ... Desktop and also MS Server operating systems!
1.) Clean up or empty the recycle bin with the command line!
With the command  Clear-RecycleBin with confirmation / selection 

Simply confirm with [Enter] or press "Y"  

Then the recycle bin is emptied




Windows PowerShell
Copyright (C) Microsoft Corporation. All rights reserved.

PS C:\Users\Nenad> Clear-RecycleBin

Confirmation Are you sure you
want to perform this action?
Performing the operation "Clear-RecycleBin" on the target "All contents of Recycle Bin".
[Y] Yes [A] Yes, all [N] No [K] No, none [H] Stop [?] Help (default is "Y"):






2.) Deleting a specific drive recycle bin!
The same as the first example, except that you have to specify the drive with the  -DriveLetter parameter
 




Clear-RecycleBin -DriveLetter D




The contents of drive letter "D" are removed from the recycle bin, or that were deleted on drive D!


3.) Clean everything in all recycle bins without confirmation!
Just use -Force to clean all trash without prompt!





Clear-RecycleBin -Force








4.) ... What should be considered when cleaning via command line!


If there are objects in the recycle bin that have been deleted by the administrator with special system rights, it may be that you can only clean them with elevated rights!





(Image-1) Empty the recycle bin from the command line with PowerShell!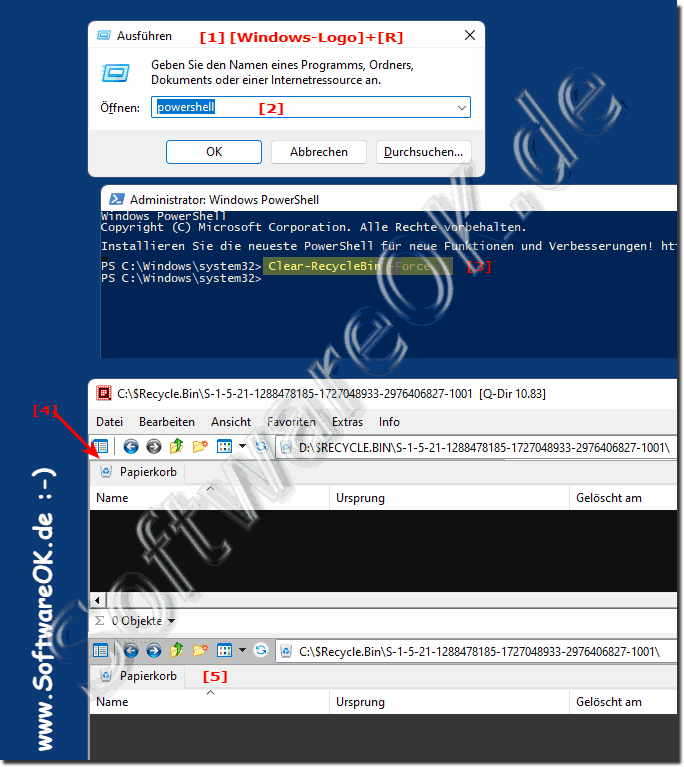 FAQ 17: Updated on: 16 June 2022 12:05