Some Windows Explorer users miss the network drive disconnect or connect function on all MS OS!


You can easily disconnect or connect the network drive, it couldn't be easier. You can then use this as a quick function on all Windows operating systems as long as the error message  "The network path was not found" does not appear .

But it is easy

 to separate or connect

the corresponding network drive in  Q-Dir Explorer  and  MS File Explorer !



 

Content:

1.) Connect / disconnect the network drive option!
1. As always, start the Q-Dir Explorer  

2. Menu item Tools ► Network, ► Network drive ► Disconnect or connect! 

(... see Image-1 Point 1 to 3)

PS:
The advantage is that the drive can then also be addressed as normal in Microsoft Windows Explorer, and you can easily move, copy, delete, share, ... !   



(Image-1) Quickly disconnect or connect the menu option!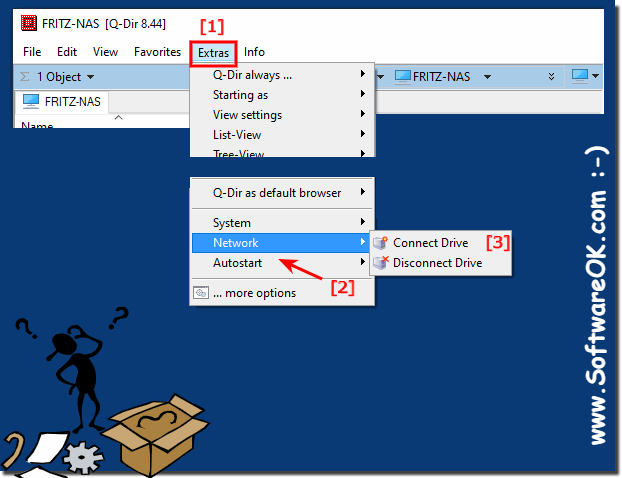 2.) Connect Fritz-Nas directly and quickly as a drive!
1. Start the Q-Dir Explorer    as usual 

2. Change the path via the ?  address line 

3. And simply connect the network drive


Every Windows user can implement it very quickly. Unimportant, whether on a NAS or an FTP server, if you always want to access a folder in the network, a full drive letter is very practical and can be treated just like a local hard drive. The advantage is clear, you save time and do not have to know the many rules of the address bar !




(Image-2) Connect to the NAS network drive quickly!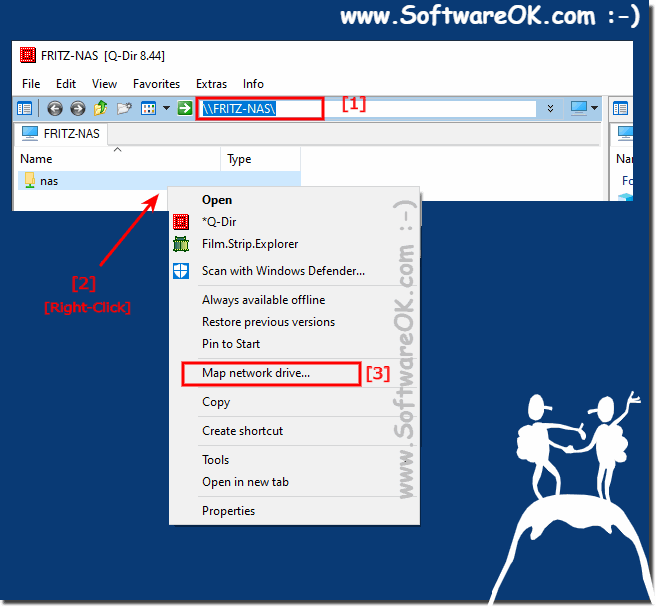 FAQ 125: Updated on: 14 October 2021 18:15