If you wish, that the column settings will be saved, of all Explorer view in Q-Dir and icon size, please enable this option!


Content / Tip / Solutions:




Preface:

Save Explorer folder settings, how can I take over the setting of the Explorer bar, folder, in Quad Explorer for Windows, so that this setting is retained each time the window is opened, frequently asked question, unlike in Windows Explorer The few options as for all folders have here advanced settings, for more view options for each of the 4 explorers!



1.) Enable Save Columns in List View!
check the option: ► 

Extras

 ► 

List-View

 ► 

Save Columns

 



or: check the option: ►

Extras

► ... more Options 





2.) Enable Save Last View!
To start the alternative Explorer for Windows with the last Explorer View settings and Columns plus Window position! 





3.) Problems on Windows 10 and Defender!  
4.) Check, Is the work directory write Protected!
5.) Save the columns in a Favorite!

The Favorite saves also:
1. View settings (Splitter,...)
2. With the current view and window size
3. Main Window Placement
4. Color-Theme


But your must enable this options!  



(Image-2) Favorites save settings in Q-Dir!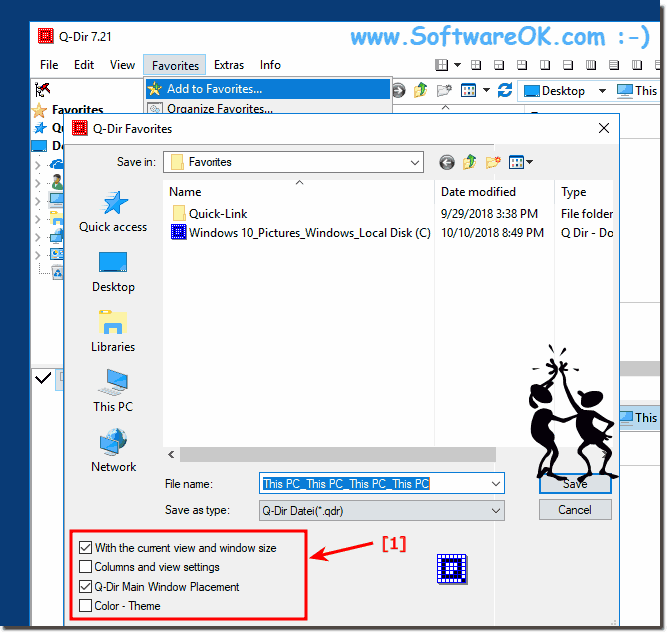 Info:
Easy Save the Explorer-View Column and View settings, the instruction is not only written for Windows 10, this screenshot has been snipped under Windows 10. But, you can use this example for earlier versions of Microsoft's Windows operating systems whether it's a Private Windows desktop Computer, on the road on tablet-PC, Surface Pro / Go, or even a server operating system. It has been tested on all and successfully
verified
.
FAQ 13: Updated on: 15 December 2021 19:18