The file list as an export to CSV, TXT, HTML, XLS, ... the current Explorer view in Quad Explorer is easy!



Everyone knows ►► the file lists and directory structure Export in DirPrintOK in Q-Dir you can export and print the current view.


Content:


1.) The export of the file list in Q-Dir!
1. Start the Quad Explorer Q-Dir as always

2. Navigate to the folder you want to export 

3. Open the export function via the menu ► File ► Export

4. Export the file list in CSV, HTML, TXT,. ...

(... see Image-1 Point 1 to 3)



(Image-1) Export to CSV, TXT, HTML, XLS, ... the current Explorer view in Q-Dir!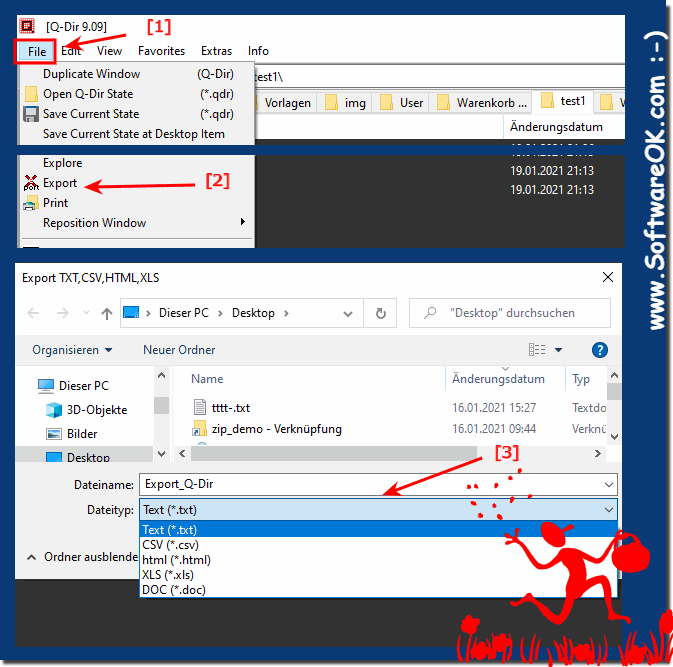 2.) Print everything from the File Explorer views under MS Windows OS!

Everyone knows the printing of several images on one page in the file explorer, which also works in Q-Dir. Use the Print button in the Q-Dir  symbol bar, or via the main menu Print, the current folder view is always printed, large symbols (thumbnails), file detail list, list, ... depending on the what you want to put on a sheet of paper in File Explorer.

More on this: ►► under Windows the content of the Print folder!  Or: ►►  ... the DirPrintOK tool





(Image-2) Print what yo see in Explorer Views!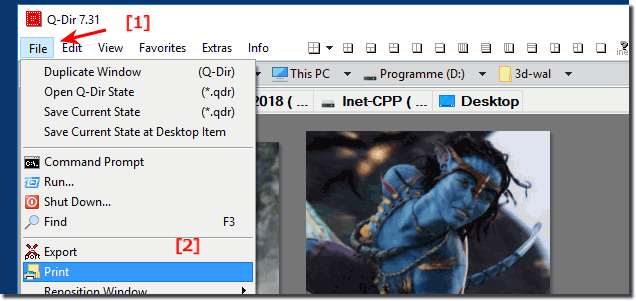 FAQ 131: Updated on: 20 January 2021 07:18