To print multiple pictures, photos ergo images in Windows 11 or 10 please start the MS Windows file Explorer!
Content / Solution / Tip:
To print a photo in popular formats, you need no special software. Windows 11/10 has a handy and simple tool on board, whether it's a Windows desktop, tablet, Surface Pro / Go, or even a server operating system. Please 
Don't Print Double Images on Windows
!
1.) Select multiple pictures for Print on Windows 10/11!
For example Windows + E keyboard shortcut, and
select the multiple Images
that you want to print on a paper page.
Please do a right click with the mouse on the selected images, to open the explorer context menu and select the option 
Print
.  (
... see Image-1 Arrow-1
)
And now in Windows 8.1 Photo Viewer . (
... see Image-2 Arrow-1,2,3,4,5
)
(Image-1) Print Images in Windows 10!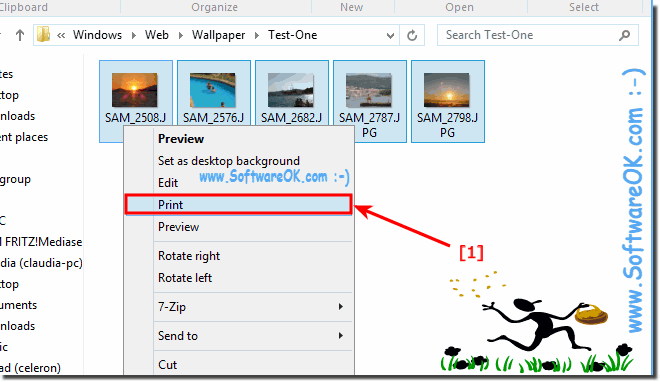 After the holidays you often come home with lots of great pictures. With Windows 10, they can quickly put on paper. You can also print several pictures at once.

2.) Change print and paper sizes in Windows 11/10 print feature!
To print multiple pictures on one page, right-click the pictures you want, and then click Print. You see a preview of your images in the MS Print Pictures dialog box. Depending on the number of pictures you're printing, you might use more than one sheet of paper and Paper type.
1. change print and paper sizes in Windows print feature!
2. print multiple pictures on a single paper page!
3. change the paper size, paper type, and print quality!
4. and ....  (... see Image-2)
The type of print paper that you use to print your images could be the single most important factor in determining print quality. You might use inkjet paper or simple plain paper for printing, but if you want to make a high quality photo print, please use for example premium glossy or a matte photo paper for the print out.
Tip: For the best print out results, be sure to select the paper type option with what you have in the printer.
(Image-2) Print multiple Images in Windows on one Page!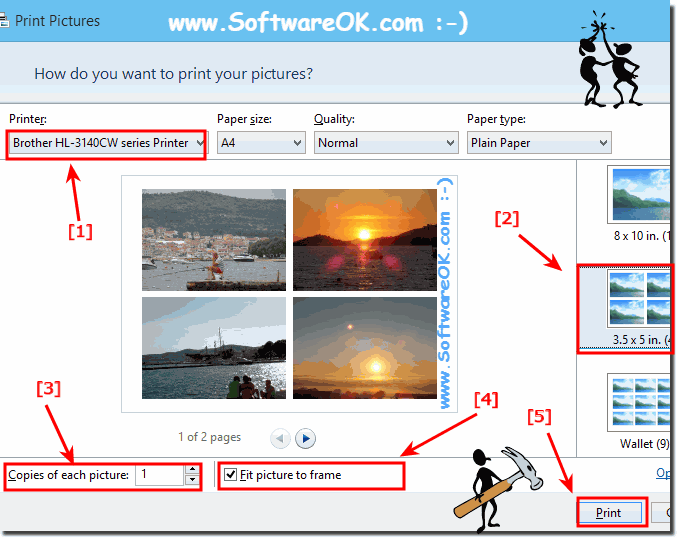 3.) I can not print with the windows 11/10 printing feature, why!
If the printer is not on, online, or ready, all print jobs are sent to a print queue and wait for the printer to become operational. Once the printer is ready, all available jobs should continue. If the jobs do not continue, either the printer is not ready or there is another problem. You can test a problem by either restarting the print job, canceling all other print jobs, and trying again.
NOTE:
When you try to print to a network printer, you can only print when the printer is online. If the printer is turned off, disconnected from the network, or has another network problem, the printer will be displayed as offline. Also check the Windows standard printer at the same time 

Info:

In Windows 10, a very handy printing feature for images is built in and can be used quite easily without much prior knowledge and effectively used for image printing, here briefly explained, with a short example for Windows newcomers and / or converters, from Appels MAC OS, or Linux and Android are coming.


4.) ... The trick to print a single picture several times on one page!
1. Select the image to be printed, right click and "Print" 
2. Switch to 4 images per page (as an example) 
3. And set the copies per image to 4 

(... see Image-3 Point 1 to 5)


(Image-3) Multiple printing of 1 image on one page!