To install Q-Dir for Portable usage is very easy whit the Quick Install feature in Q-Dir for MS Windows Desktop 11, 10, ... and Server OS!


This is for the ► Quad Explorer Q-Dir and also for ► Meinplatz!

Content:




1.) Q-Dir Portable Install!
Please start the "Q-Dir_Installer" and click on Install portable! (... see Image-1)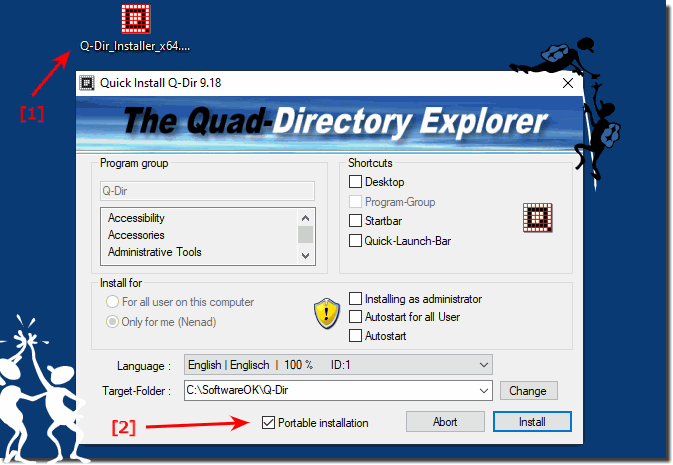 2.) Iinstall silent command line!
Q-Dir.exe -install /silent langid=14 
Other parameters from version 6.97: 
admin = as administrator
forall = for all at the same time admin and for all users (accounts)
noquicklaunch = not in the Quick-Launch (quick start bar)
nodesktop = no desktop shortcut
nostartmenu = no entry in the start menu
noautostart = no autostart entry
 

Q-Dir.exe -install /silent noautostart forall langid=14 



See also: ► Specific language at install in the silent command line! 



3.) ... Where is the auto update in the Quad Explorer Q-Dir?


Auto update service is deactivatable e.g. if Q-Dir is installed in the company network.

Simply make the entry in Q-Dir.ini then it will not appear in the right toolbar of Q-Dir.ini



Q-Dir.ini

[Q-Dir]
enable_auto_update=0  


(Image-3) Q-Dir Explorer Auto-update and Version Checker!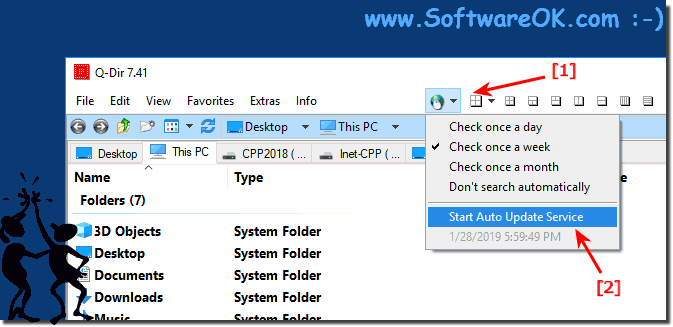 FAQ 23: Updated on: 12 October 2023 14:08