Restarting the Explorer in all Windows operating systems

(Windows 7, 8.1, XP, 10, 11 Server) is very easy and almost identical!



The solution to restart the Explorer is not only written for Windows 10. this Restarting the Explorer screenshot has been snipped under Windows 10. However, you can use this restart the Explorer solution without hesitation on  older MS Windows operating systems whether it's a Windows desktop, tablet, Surface Pro / Go, or even a server operating system. It has been tested on all and successfully

verified

.


Tip: for Internet Explorer, just use iexplore in the place of explorer. 

Content:


1.) Method-1: Restart Windows Explorer via Task Manager!
First start the task manager!
With the key combination [CTRL + ALT + DEL] you can start the Taskmanager directly !

From Vista / Windows 7 with the key combination [CTRL + SHIFT + ESC] , the task manager is also called directly.

After the task manager is started:

Right-click explorer.exe and then click End Process in the context menu **.
(... see Image-1)

From the main menu just click on "File"> "Run New Task"!
In the dialog box that opens just type in explorer and confirm with [ENTER] or [OK]!
(... see Image-2)




(Image-1) Restart and end Windows Explorer task!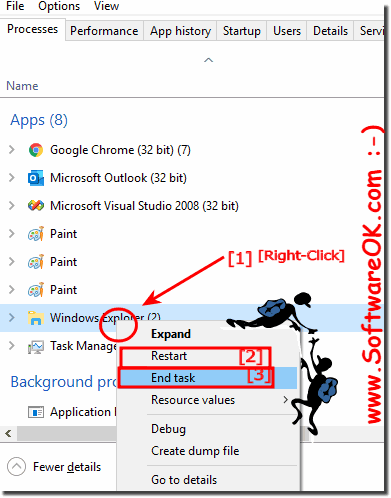 (Image-2) Run new Windows Explorer Task under Windows 10, 8.1!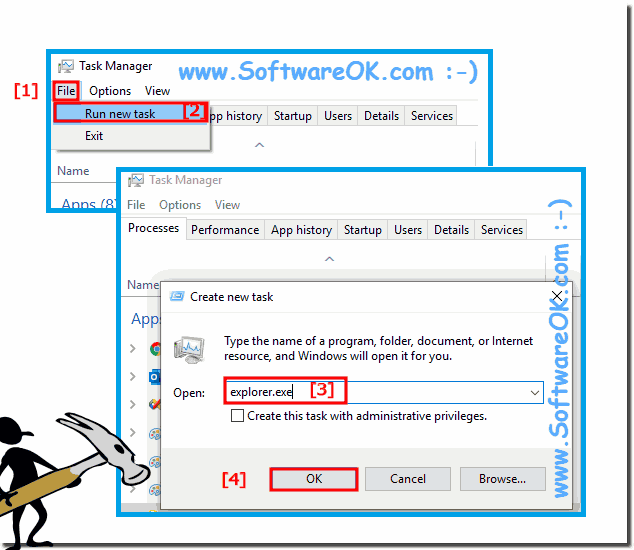 2.) Method-2: Kill and restart Windows Explorer with the help of ProcessKO!
The small freeware tool ProcessKO has been developed for such tasks. 
And is self-explanatory.
(Image-3) Restart Windows Explorer on Windows all OS!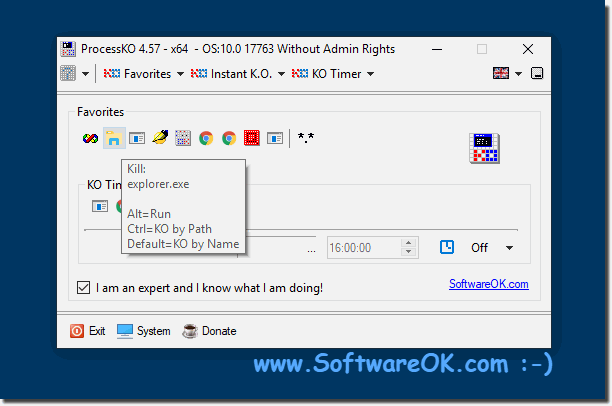 3.) ... Method-3: Restart Windows Explorer via an Explorer_Restart.bat!



Start the CMD via Windows-X menu in Windows 10 (Keyboard Shortcut Windows-Logo + X)

Example 1: Kill the Windows-10 MS-Explorer and start again!

How to start cmd in Admin mode : ... Run Windows 10 command prompt (cmd.exe) in administrator mode!


Microsoft Windows [Version 10.0.14393]
(c) 2016 Microsoft Corporation. All rights reserved.

C:\Users\User1>taskkill /IM explorer.exe /F
SUCCESS: The process "explorer.exe" with PID 2652 has been terminated.

C:\Users\User1>explorer.exe

C:\Users\User1>

Example 2: batch file to restart the Windows 10 File Explorer
Download ... restart_explorer.bat



taskkill /IM explorer.exe /F
timeout 2
explorer.exe


FAQ 23: Updated on: 25 September 2021 16:13