In  Quad Explorer there is currently only the MS internal FTP, but for working and viewing it is sufficient, at some point an effective ftp client for Windows 11, 10, ... will come! 
1.) General information FTP!
If you simply integrate SFTP connections in Windows Explorer, you can also use them in Q-Dir.

For SFTP / FTPS :  ... integrate the SFTP connection in Explorer !


Few addresses for testing:



ftp://ftp.cevis.uni-bremen.de/

ftp://ftp.tu-clausthal.de/

ftp://ftp.tu-chemnitz.de/




ftp: //ftp.inf.tu-dresden. de /

ftp://ftp.demon.co.uk/

ftp://nic.funet.fi/

ftp://ftp20.netscape.com/




ftp://ftp.qualcomm.com/



Microsoft: ftp://ftp.microsoft.com/
INTEL: ftp://ftp.intel.com/
Electronic Arts: ftp://ftp.ea.com/pub/





(Image-1) FTP in Q-DIr as a folder!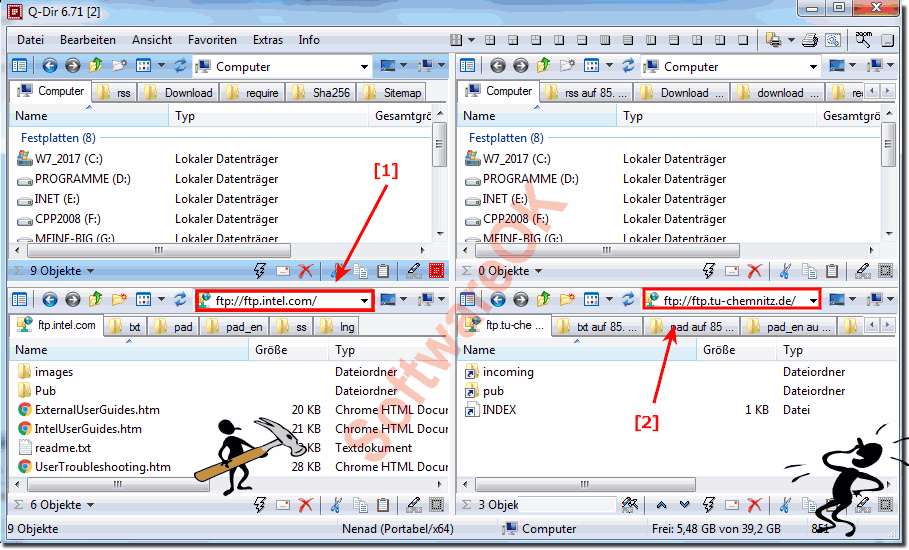 2.) Why don't I just write an internal solution!
I could write something there, but there are different options and some very good ones.

Also different drive types (NAS, Samba, FTP, HTTP, ....) for everything to write would be a life's work.

And quite a waste of time.

Q-Dir is mainly about file management and not about the various transport protocols. Especially since some are added every month and either disappear or are superfluous.

In a few years, FTP may well be redundant, and 100 hours of work for nothing.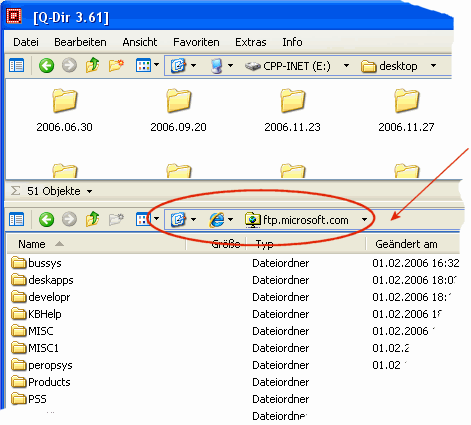 Couple addresses for testing:
ftp://ftp.cevis.uni-bremen.de/
ftp://ftp.tu-clausthal.de/
ftp://ftp.tu-chemnitz.de/
ftp://ftp.inf.tu-dresden.de/
ftp://ftp.demon.co.uk/
ftp://nic.funet.fi/
ftp://ftp20.netscape.com/
ftp://ftp.qualcomm.com/
Microsoft :
ftp://ftp.microsoft.com/
INTEL :
ftp://ftp.intel.com/
Electronic Arts : ftp://ftp.ea.com/pub/


In future i will add effective FTP client in Q-Dir!




See also :
https://www.softwareok.com/?seite=faq-Q-DIR&faq=39


FTP FOLDER IN Q-DIR

FAQ 35: Updated on: 12 October 2021 16:50