The solution to create a
desktop shortcut for security center

, or set up as a tile for tablets and MS-Surface via the star menu!

Content:
1.) Simply create a classic security center desktop shortcut for Windows 11 and 10!
A security center desktop shortcut is popular with users who want to change or adjust the security settings frequently, with this one can change the security on the PC faster! 
1. Right-click a free space on the Windows 10 desktop
2. Select:
"New"
►
"Shortcut"
3. Now type: explorer.exe windowsdefender: 
4. And click the
"Next"
button.
PS:
You can use "SC", "Security" or "Security Center" as the name, it is very easy to create a Security Center desktop shortcut on all Microsoft Windows operating systems, and thus to open the Security Center from the desktop even faster!
(Image-1) A shortcut and keyboard shortcut for the security center and start menu!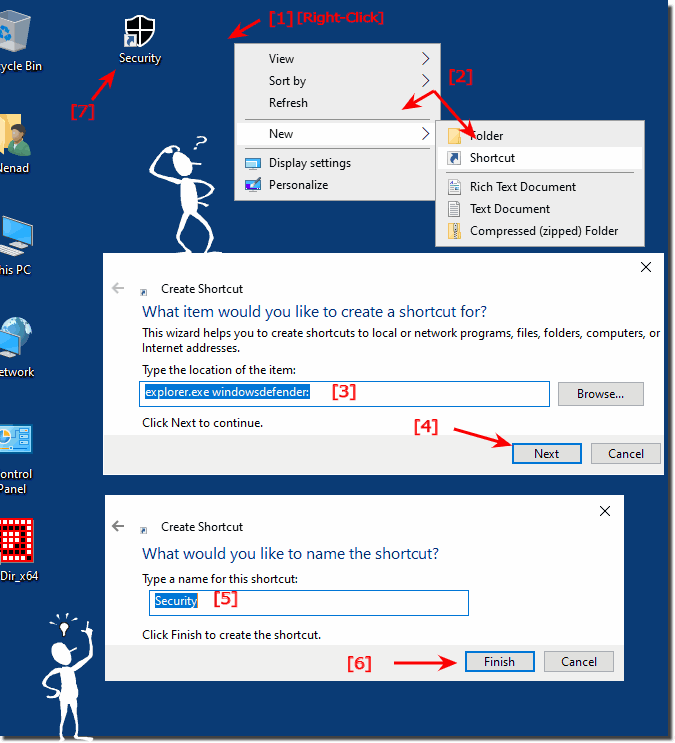 2.) Define the correct icon (symbol) for the Windows Security Center!
You can adjust the Windows Security Center symbol quite easily, it is also good if you use a meaningful symbol for the Windows Security Center to connect an optical association with security!
 
1. Right click on the desktop
2. On properties 
3. Click the "Change symbol" button
4. File %ProgramFiles%\Windows Defender\MpCmdRun.exe (point 4)
5. And just customize the Cursor Options icon 
6. Confirm with [OK] and [OK]
Or download: ►► 
Security_at_a_glance Desktop_Shortcut!.zip
Security on the MS Windows desktop and server systems such as the Web Server 2019, 2016, ... is an important point   
(Image-2) Correct symbol for the security center desktop and start menu!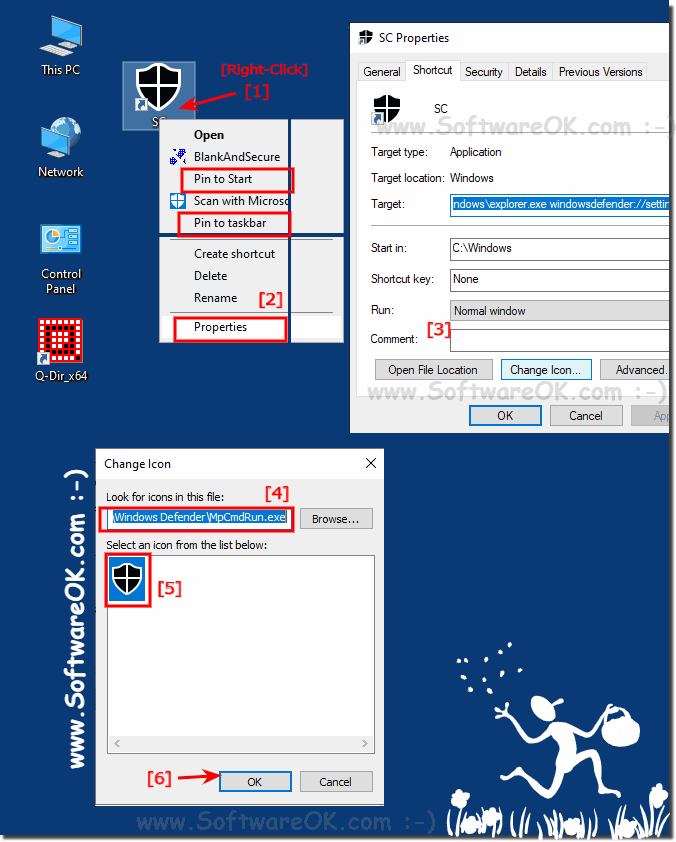 3.) Define a keyboard shortcut or create a start menu tile for Windows 11 and 10!
If you have created the desktop shortcut for the Windows Security Center, it also makes sense to open it quickly using a Security Center keyboard shortcut, why not!
1. Simply click the Security Center symbol with the right mouse button
2. And pin it directly to the Windows 10/11 start menu (point 2)  
3. Then click on the Properties option and assign the key combination.
(
... see Image-3 Point 1 to 5
)
PS:
A keyboard shortcut is very practical to start the security center quickly with a keyboard shortcut. It can also be started via the Run dialog, but many Windows administrators and standard users prefer a direct key combination because it is simply practical.
(Image-3) A security center in the start menu and keyboard shortcut!