You can specify in Quad-Dir what should be displayed in the title bar, five different options are currently possible!
1.) Change the Title bar in Q-Dir!
Main menu ► Extras ► Title-Bar (... see Image-2)
► Show nothing
► Show complete path
► Show only the name
► Show the last opened favorite
► Show the complete path of the selected file (object)

Please always use  ►.... the newest and latest version of File Explorer Q-Dir ◄ 

See also:
► ... only one instance of Q-Dir (tab, open, explorer!
► ... How can i change the preview filter settings?
► ... How can i change the address bar in Explorer View?
► ... change the color of the explorer views address bar!


Image-1


Info:
However, you can use this example, solution to change the title of the Quad-Explorer window without hesitation also use for earlier Microsoft's Windows operating systems whether it's a Windows desktop, tablet, Surface Pro / Go, or even a server busines operating system. It has been tested on all and successfully
verified
.  
It is sometimes necessary to use this to change the title of the Explorer window, It is a simple yet effective tool, use it and get in touch with the benefits of alternative file management on one of the following ms operating systems!
2.) Use NWP.QDR for new Workplace (ergo Favorite)!


If you save the *.qdr with the extension *.nwp , the settings for the *.nwp.qdr are also saved in this file.   

So if you select the option

"Show the last opened favorite"

for the title bar , it will also appear in the title bar, which can be very helpful if you have several Q-Dir instances running at the same time!


See also: ►►  start with a favorite setting




(Image-2) title in the title bar new desktop in Q-Dir!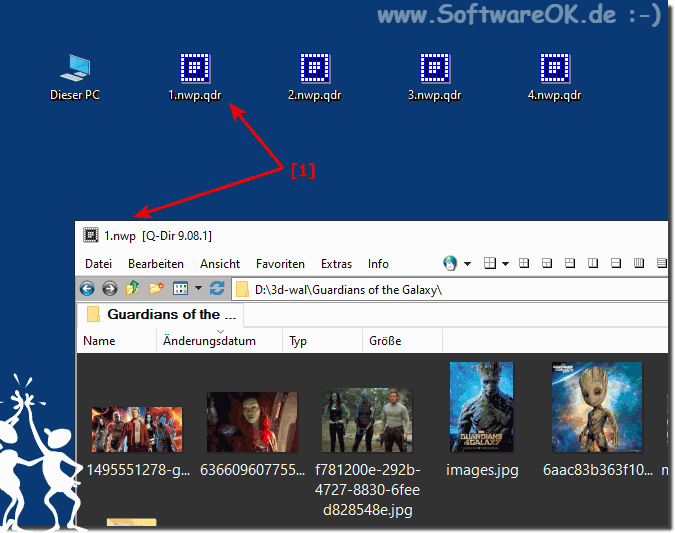 FAQ 43: Updated on: 7 May 2022 07:22