Change the color of the header bar of the active explorer view window in Quad-Explorer easy and simple!
Content / Solution / Tip:
1.) Activating the function Address bar Highlighted in color! 
Activate the option via the main menu in Q-Dir
Extras ► Address-Bar ► Highlighted when active.

Info #BG is for Background of list view #BG-A is for Background of active list view. 

Please use ... always the newest Version of the file explorer Q-Dir!  
See also: ► ... disable all Colors Highlighting! ► ... Classic Address-Bar on Windows-10!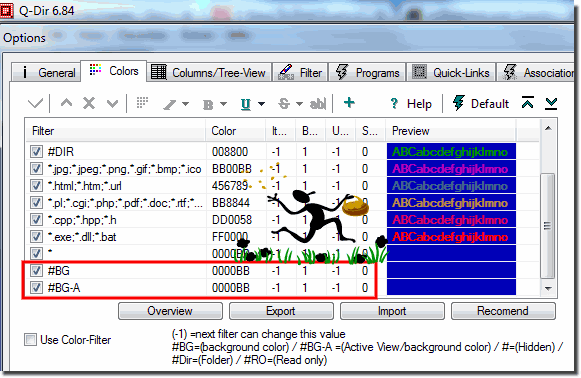 2.) Tips to recognize the active window faster and so! 
Optionally also highlight the status bar via the main menu ► Status bar! 
By pressing the TAB key you can quickly change to the next file explorer TAB + Shift key to the previous file explorer! 
FAQ 45: Updated on: 24 September 2018 09:03