Sometimes you need to convert a certain text from lowercase to uppercase or from uppercase to lowercase.




Purely and simply, the currently selected text will be converted to uppercase or lowercase in any Windows 11, 10, ... program or APP.

It is possible from 

QuickTextPaste

 version 3.33!


Content / Solution / Tip:


See also: ► Replace function with special character support! ► Paste plain text from the clipboard! 

1.) Working with Lower Case And Upper Case
The Work with Upper-Lower-Case Text converter i will explain with beautiful pictures and an effective example:

Create the Uppercase (command) for QuickTextPaste: 

%copy_text_uc%



and, for example, select the keyboard shortcut Alt Gr + U and press the Add Button. (... see Image-1)

Now to explain, 

%copy_text_uc%

  causes QuickTextPaste to paste the selected text from the foreground program into the clipboard and send it back to the active or foreground program by paste (paste) as a capital letter Text.

The

%copy_text_uc%

wildcard ensures that QuickTextPaste sends copy command to the program before sending the paste command to the active window (foreground program)

And so, the selected text is placed in the clipboard and is inserted through QuickTextPaste at the place from the placeholder

%copy_text_uc%

.

Tip: At the point of %copy_text_uc% you can also use

%copy_text_lc%

 to convert the text in lowercase instead of uppercase. Well suited for the MS Office or open Office products, to convert the currently selected text in small or capital letters. (... see Image-2)



(Image-1) convert text from lowercase to uppercase!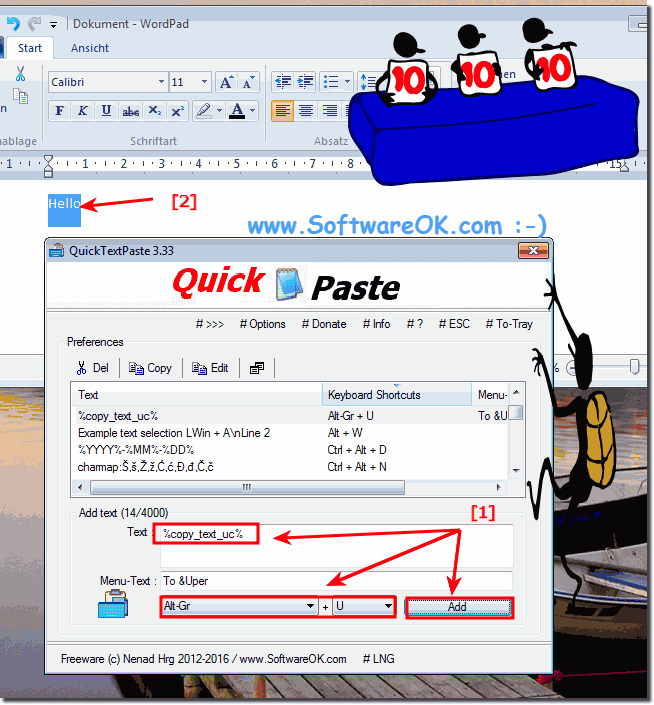 (Image-2) convert text from uppercase to lowercase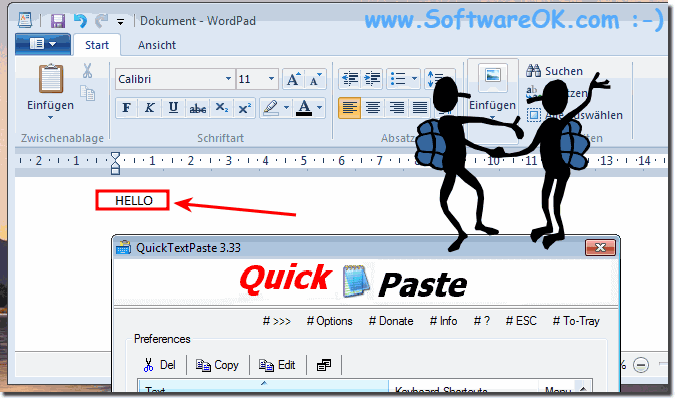 2.) It also works under Windows 10 and Windows 11?

It is independent, regardless whether a text to be converted to uppercase or lowercase letters. Under Windows 11/ 10, Windows 7, 8, or 8.1, or other versions of MS Windows, it always works! There are no limits for this feature :-) how to use this meaningful convert function.

It works at QuickTextPaste Version 3.33!

FAQ 18: Updated on: 13 July 2021 09:47