It's easy to remove not necessary Sub-Menus ergo the folders created in the QTP menu on Windows 11, 10, 8.1, ...!
As of version 5,
3-level sub-menus are
 possible
due to the command overview.  If "/" appears
in the
menu
, these appear.
If a command does not need it because there is no need for it, as in the  Windows-Z menu example , you can not use a "/" character in the menu.
Just leave the command 01/01/2020 and rename the menu to "01\01\2020" or "01-01-2020". Please u
se the text input field to change this!


O.K.! And away with the submenus!



1. Start / open QuickTextPaste 

2.

Highlight

the annoying submenu
3. Use the text input field to "01-01-2020" to use in the menu

4. Press the Replace button

( ... see picture-1 Point 1 to 4

)





(Picture-1) Delete the folders created in the QTP menu!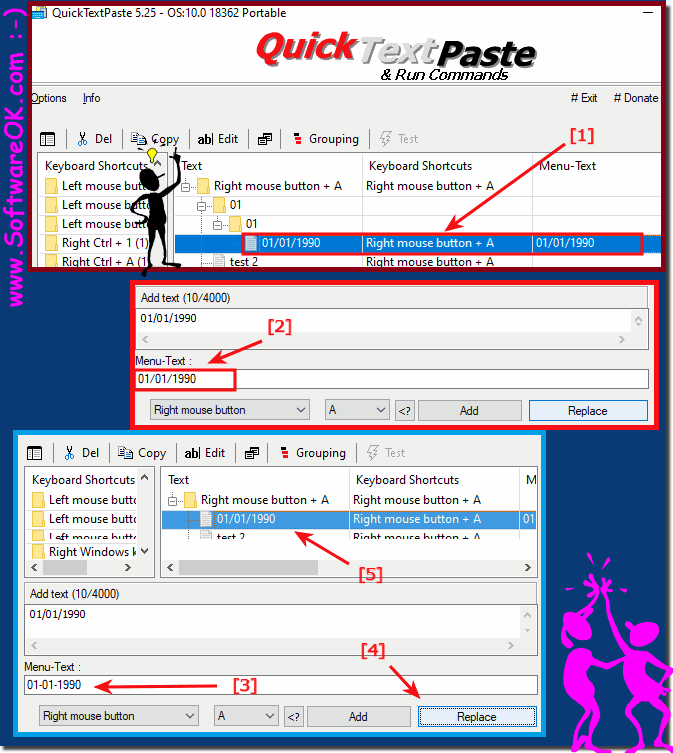 To submenus QTP
To improve the overview, the commands can subdivide into submenus and move them by drag and drop, if you change the sorting to "menu order" you can directly affect this here.
The icons are currently extracted automatically, in the future you will also be able to define your own for commands and subfolders.  



FAQ 38: Updated on: 30 June 2021 10:17