Of course, you can continue to use the Text Snippet Tool on Microsoft's Windows 11 and benefit from the text snippets!


Contents:



1.) Text Snippet Tool on Windows 11!
1. Download ►► QuickTextPaste for Windows 11 !

And use it on Windows 11 as usual

For example to:
►► How to create Selection of text fields for single hotkey (keyboard shortcut)?



(Fig.-1) Continue using the text Snippet Tool on Windows 11!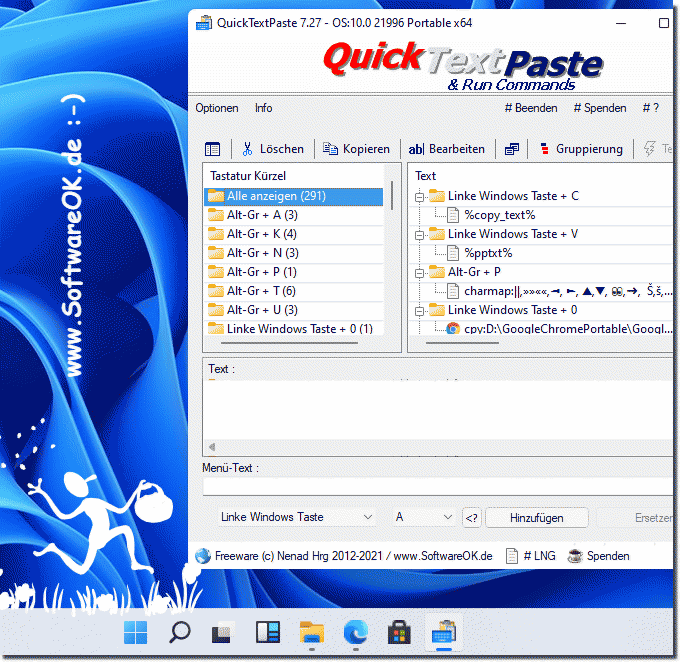 2.) Of course you can use the built-in text snippet tool on Windows!




Of course, you can use the built-in text snippet tool on Windows. Windows provides a feature called Text Services Framework (TSF) that allows you to create and use text snippets, text shortcuts, and text predictions in various applications. Here's how you can use it:




Open Text Services Framework Settings:

Press Windows + I to open Windows Settings.
Go to "Devices".
Select "Enter" in the left sidebar.

Add text suggestions:
Under "Hardware Keyboard" you will find the "Add Keyboard" option.
Click Add Keyboard and select Microsoft SwiftKey.

Configure text suggestions:
After adding Microsoft SwiftKey, you can click it and configure text suggestions, autocorrect, and more to your liking.

Use text suggestions:
Once configured, Windows will suggest text predictions based on your input as you type. You can press Tab or Enter to accept the suggestions.
Create custom text snippets (for Windows 10 and earlier):

The AutoText feature in some programs, such as Microsoft Word, allows you to create custom text links or snippets.

Open Microsoft Word (or similar text editors).
Go to File > Options > Correction > AutoCorrect Options.
Here you can add custom text shortcuts and their corresponding text snippets. For example, you can set "brb" to expand to "be right back".
Click "Add" and then "OK" to save your changes.
Create custom text snippets (for Windows 11 and later):

Windows 11 introduced a new feature called Text Suggestions that allows you to create custom text snippets.

Press Windows + V to open Clipboard History.
At the top of your clipboard history, you'll see "Show your text suggestions." Click on it.
Here you can add custom text shortcuts and their corresponding text snippets.
Use custom text snippets:




When you enter your custom text shortcut (e.g. "brb"), the system will suggest the full text snippet and you can accept it by pressing Tab or Enter.
These built-in Windows features are designed to help you create and use text snippets or shortcuts without the need for third-party software. However, if you prefer a more advanced and feature-rich tool, as mentioned above, you can still use software like QuickTextPaste or other third-party clipboard managers.







FAQ 47: Updated on: 7 October 2023 12:27