It is actually the "system navigation" click "sound"


Step 1: Sounds and Audio Devices settings via:

"START" ► "Settings"►"Control Panel" ► "Sounds and Audio Devices"

Step 2: In "Audio Device Settings" via the tab bar "Sounds":

Select in the list of

"Program events:"

the

"Start Navigation"

item, then in the select-box "Sounds" set to

"None"

.

See also:
► Start navigation click sound in Windows 10!
► Disable sound on Windows 7 when clicking link!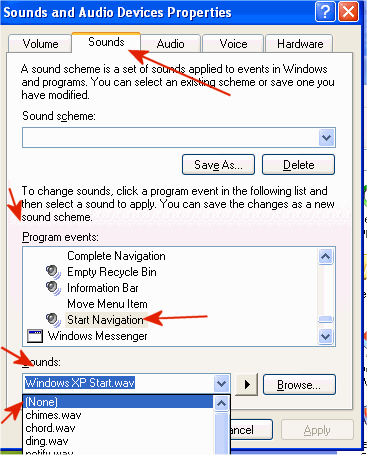 Info:
A sound scheme is a set of sounds applied to events in Windows and programs. You can select an existing scheme or save one you have modified.

To change sounds, click a program event in the following list and then select a sound to apply. You can save the changes as a new sound scheme.
FAQ 7: Updated on: 24 April 2018 11:12