You can easily customize the Recycle Bin in Windows 10, for example, the maximum size in MB, or disable the Recycle Bin. 

This brief solution is also available for Windows 8.1 and Windows 7, as well as Server 2016 and 2012, customizing and optimizing the Recycle Bin is a great way to prevent the files from even ending up in the trash


1.) Customizing the trash and trash (Recycle Bin) size! 
Please open the Recycle Bin Properties via Run-Dialog and the command shell:RecycleBinFolder 
(... see Image-1 Arrow 1&2)

By a mouse right-click on an empty space in the Explorer view, open the properties of the  Recycle Bin in Windows-10!
(... see Image-1 Arrow 3 and 4)

And now select the Partition e.g. Recycle Bin Location and change the Settings for selected location:

1. Custom size in MB or 

2. Disable the Recycle Bin for the selected Partition via Check-box:
Don't move files to the &Recycle Bin. Remove files immediately when deleted.
(... see Image-1 Arrow 5 to 7)

 
See also: How to delete files without the Recycle Bin ||  Customize the pagefile.sys in Windows 10 



(Image-1) Customize Recycle Bin in Windows-10!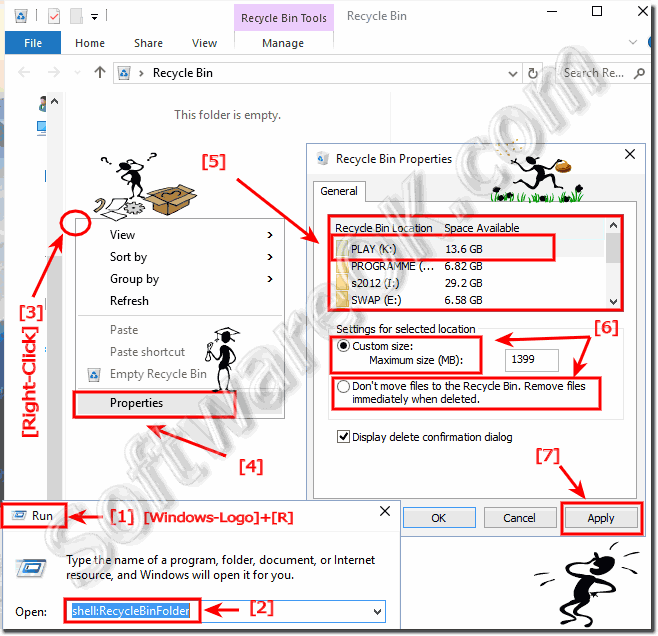 When you delete a file from your Windows 10 computer, it's actually just moved to the Windows 10 Recycle Bin, where is it temporarily stored until the Recycle Bin is emptied. This gives you an opportunity to recover accidentally deleted files on Windows 10 and restore them to their original Windows 10 locations.

See also: How to restore Windows-8.1 / 10 Files and Folders || Restore system files and settings from a Windows 10 ||


2.) What should be considered when deleting and when is the trash (Recycle Bin) useless!
That should not be surprising. 
Many may have noticed that it happens when you delete that the deleted items do not end up in the trash. 



As soon as you 

 delete 

something in the 

network

 folder or on a 

smartphone

 just 

plugged in

 via the 

USB

 , the deleted items will 

not appear in the trash

 . 

Here there is no configuration of the 

Recycle Bin works

 on some network folders, such as SMB and smartphones 

not

 . 


FAQ 135: Updated on: 30 May 2020 18:07