The solution is simple to Adjust screen brightness on Windows-10 tablet PC via Mobility Center!





Sometime on Windows-10 Laptops, Notebooks and Tablets can let Windows automatically adjust the screen brightness based on the current lighting conditions, depending on whether you are outside or indoors!






See also: shutdown, restart, sleep shortcut for Windows-10 |&| Stop your laptop from going to sleep when closed 

1.) Open the Mobility Center in Windows 10 via Tray Symbol!
Please do a right click on The

Power Symbol

in the Notification Area or Tap for a couple of seconds on your Tablet-PC!

And adjust the Screen eg Display brightness!  (... see Image-1 Arrow 1 & 2)

Move the brightness slider to temporarily adjust the brightness of your Windows 10 display. To adjust the display brightness settings for your power plan, click the icon to open Power Options in Windows 10.




(Image-1) Mobility Center on Window-10 tablet PC!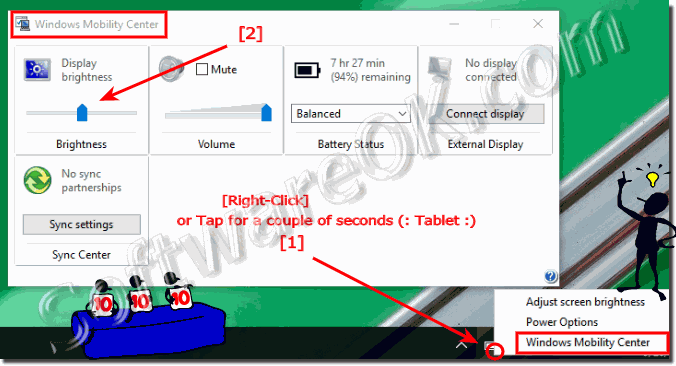 Useful Info from (c) Microsoft!




If you use a laptop or tablet PC, you can quickly access settings, for example, speaker volume, wireless network connection status, and display brightness in Windows Mobility Center. Because all these settings are in one location, you save time and don't need to remember where each setting is located. This is especially helpful when you need to quickly adjust laptop or tablet-PC settings on Windows 10 in different places. 

 

Windows 10 Mobility Center shows the most often used laptop or tablet settings, such as brightness, volume, battery status, and wireless network status. Different tiles are displayed depending on your windows 10 system, and some tiles are added by your laptop or tablet manufacturer. 
2.) Create Windows 10 Desktop Shortcut for the Mobility Center! 

The Command for the Mobility Center in Windows 10 is: 

mblctr.exe

 (... see Image-2) 

Do a Right click on the Windows 10 Desktop or Tap for a couple of seconds on your Tablet-PC  and choose New, 

Shortcut

 

Enter  

mblctr.exe

 and click the button Next. In Next Window enter the Name for the Shortcut,
for example Mobility Center !  (... see Image-2 Arrow 1 to 5)

or Download Mobility Center Shortcuts for the Windows-10 Desktop:  ... Power_Options.zip  



(Image-1) Mobility Center Desktop Shortcut for Windows-10!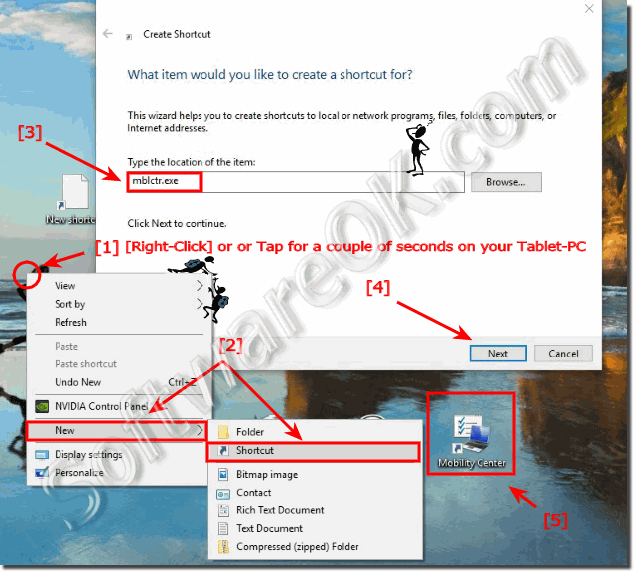 Download Desktop Shortcuts ... Power_Options.zip 

See also: Disable Password in Windows 10 when resume from sleep |&| Windows 10 desktop icons are so big

About the Screen brightness.
The brighter your screen, the more battery power your windows 10 computer uses.  Windows 10 Power plans will automatically adjust the screen brightness, but to maximize battery life, you can make the windows 10 screen dimmer by changing the brightness setting in Windows 10 Mobility Center.

FAQ 155: Updated on: 4 November 2019 20:50