You can change
the font size

, name, type used in programs on Windows 10/11, but what's the question!



You can change the

DPI settings under Windows 11/10

, but it really makes sense and is advantageous to change them fundamentally, especially if you like to use desktop programs and do not rely on the store APPs, you can adjust them quite quickly with system means and with Third party solutions.





1.) If you don't have a Creators Update yet!
Attention only without Creators Update!
With the command control /name Microsoft.Display you can quickly get to the corresponding settings.

1. Start the Windows Run dialog [Windows logo] + [R]

2. And enter the command: control /name Microsoft.Display
And adjust the font size, name and font type for your MS Windows OS
Tip: ► 
How can I find Windows 10 Creators / Redstone Update on my PC?
(Image-1) How to Customize font for program Elements on Windows 10?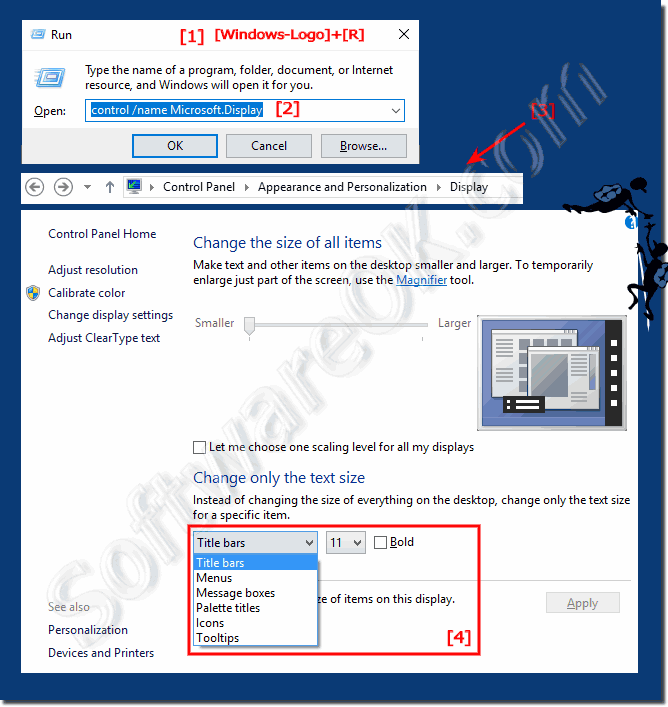 The solution is written or instruction for only Windows 10 without Creators Update, the elegant solution is not only written for Windows 10 with Creators Update to adapt the font!


2.) From Creators Update with third-party solution!
With this Windows tool it is possible to bring a little individuality into the fonts, especially what is excluded in Windows 10 and 8.1. Please start DesktopOK  and open the subroutine (function) Windows Metric and change the Windows 10 fonts according to your wishes!

Please start the Windows metric in DesktopOK via the menu  ►  Tools  ►  Windows Metric !



(Image-1) Change the font menu in Windows 10!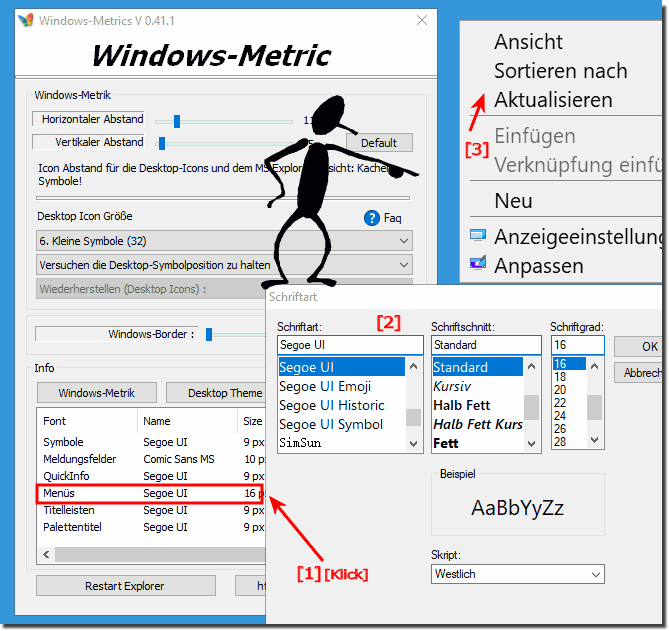 Info:

You can use this example as a solution for font size, name, and type changes that are used in programs under Windows 10 and can be used easily on earlier and older versions of Microsoft's Windows operating systems to change font size, -Name, -Art to change the programs in Windows 10.
It can be used on the Windows desktop computer, on mobile Windows 10, tablet PC, Surface Pro / Go, or even on an MS server operating system.


3.) Why can you no longer adapt this to Creators Update! 
It is the case that many inexperienced users set the font incorrectly, or even too small and then no longer recognize it on the screen, for this reason, from Windows 8.1 and 10 there is now the global DPI setting option, which works like a magnifying glass and everything stretches on the screen. 
(Image-3) How to Customize font for program Elements on Windows 10!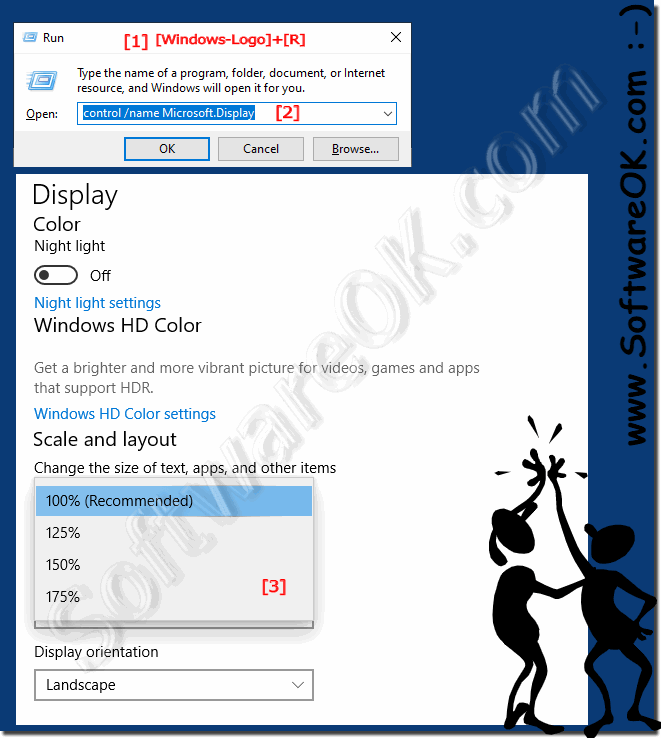 Info:
Sometimes it really makes sense to adjust the font, this solution can then be used, whether in the new MS Windows OS or on another MS operating system, it has been tested and successfully
verified
on all .
What can I do if I still have problems with font customization is a frequently asked question.
Restart
the Windows operating system, please
carry out a correct Windows restart
.
FAQ 246: Updated on: 23 September 2022 10:21