The solution is simple and easy to change the desktop icons size in Windows 10 for every Windows 10 user !


Please use the keyboard-shortcut windows-logo+D to see the Windows 10 Desktop. 

Click on an empty space on the Windows 10 desktop, right Mouse-Button. And select "View"!

And now you can change the Windows-10 Desktop icon size:
Small icons : like Windows XP
Medium icons:   like Windows 7, 8.1
Large icons: visual impairment
(... see Image-1 Arrow-1&2)

Hot Tip: ... save and restore the desktop icon positions |&| Customize icon spacing on the windows 10

See also: || find Paint in Windows 10 ||  Typing speed Windows 10 || hidden files and folders || create a PDF from Screenshot ||



(Image-1) Change the desktop icons size in Windows 10!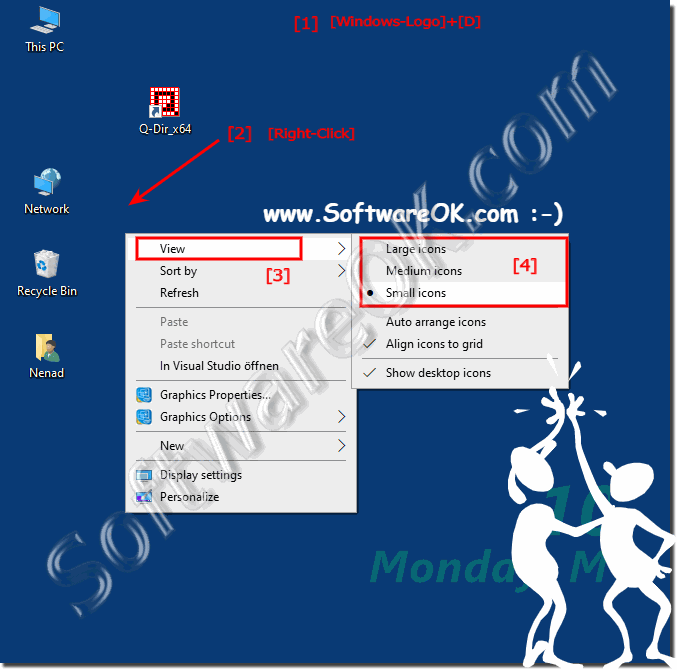 This example for customize or changing the desktop icons / symbol size is suitable for: Windows 10 Pro, Windows 10 Enterprise, Windows 10 Home, Windows 8.1, Windows 8.1 Enterprise, Windows 8.1 Pro, Windows 8, Windows 8 Enterprise, Windows 8 Pro, Windows 7 Enterprise, Windows 7 Home Basic, Windows 7 Home Premium, Windows 7 Professional, Windows 7 Starter, Windows 7 Ultimate

FAQ 30: Updated on: August 30th 2017 12:42