Changing the size, style, color, ... of the mouse pointer on Windows 11 is a practical way!
If your mouse pointer is too difficult to see, Windows 11 offers several ways to make it stand out. You can enlarge, invert, or change the color of the mouse pointer. You don't need any external tools to
generate additional tracks on the Windows screen
, the mouse pointer options offer plenty of options!   
1.) The customizable mouse pointer under Windows 11!
1. Press
 Windows + i
to open Windows 11 settings
as usual  .
2. Switch to 
Accessibility
 ► 
Mouse and touch input
3. Open the option:
Mouse
pointer  style
4. Simply change the style, size and individual color of the mouse pointer
(
... see Image-1 Point 1 to 8
)
Quite self-explanatory new mouse options under Windows 11! 
(Image-1) Change the size and style of the mouse pointer under Windows 11!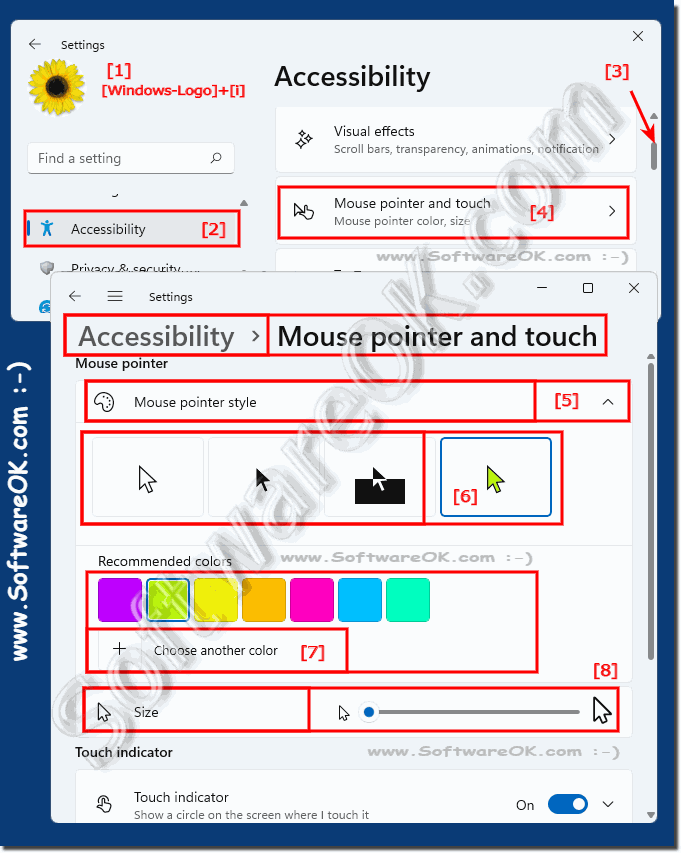 2.) Information about the color and size of the mouse pointer!
With the color you have the option:  
White: Your pointer is white with a black outline. This is the default option.


Black: Your pointer is black with a white outline.


Inverted: Your mouse pointer automatically changes the color to an inverted version of the color, over the element on the desktop that it is over, for example, if it is over a white background, the cursor is black and vice versa.


Custom:
You can choose a custom cursor color
Info:

If you have adjusted your Windows 11 mouse pointer so that you like it optically, simply close the Windows 11 mouse settings. Your changes will be saved automatically, so if you want to adjust the appearance of your mouse pointer again, repeat the process!


3.) ... Optionally the classic mouse pointer adjustments!
You can also use the classic adjustments for the mouse  (
... see Image-2 Point 1 to 6
)
see: ►
Changing the mouse pointer and the cursor size under Windows 10/11

Everyone who likes to use the mouse for different requirements when working on the computer wants an optimized mouse with full functionality, whether a simple office mouse or a professional mouse that gamers like to use. Anyone can adjust the settings of the mouse to their personal needs via the properties of the mouse!


(Image-2) Find and open classic mouse settings on Win 11!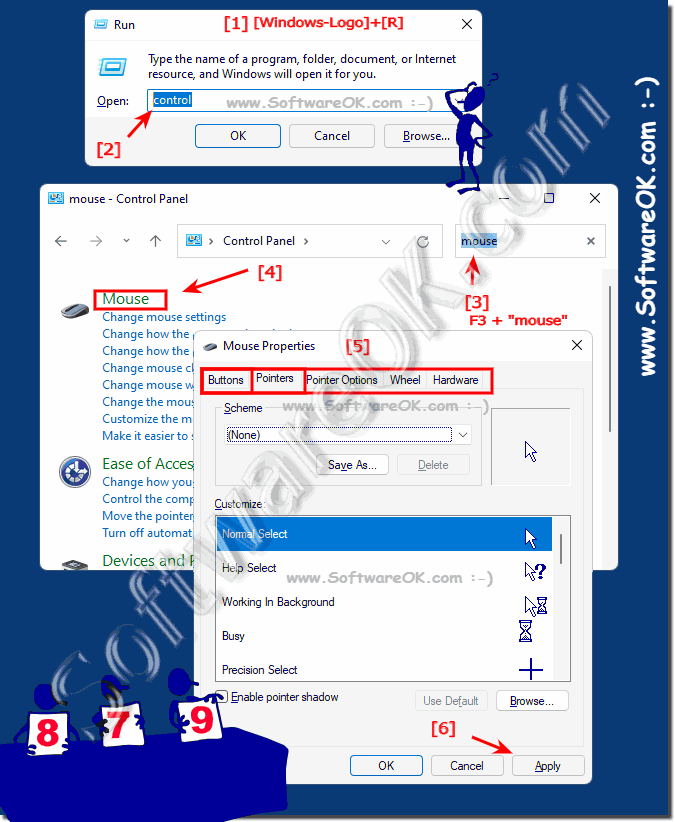 Please decide which mouse pointer options are right for you, there is no real communication between the classic and new mouse pointer options under Windows 11!