There are some standard taskbar icons in Windows 11, if you don't need them you can simply remove or deactivate the buttons!



 

Content:



1.) The standard taskbar icons on Windows 11!
Most of the system tray elements can be easily removed / detached by right-clicking on the icon!
(... see Image-1 Point 1 and 2)



The standard taskbar icons in Windows 11 must be deactivated in the taskbar settings, but this can be done very quickly by right-clicking on a free space in the taskbar and deactivating the standard taskbar icons that are not required or activating the required ones!

(

... see Image-1 Point 3 to 5

)





(Image-1) Remove the standard Taskbar Symbols in Windows 11!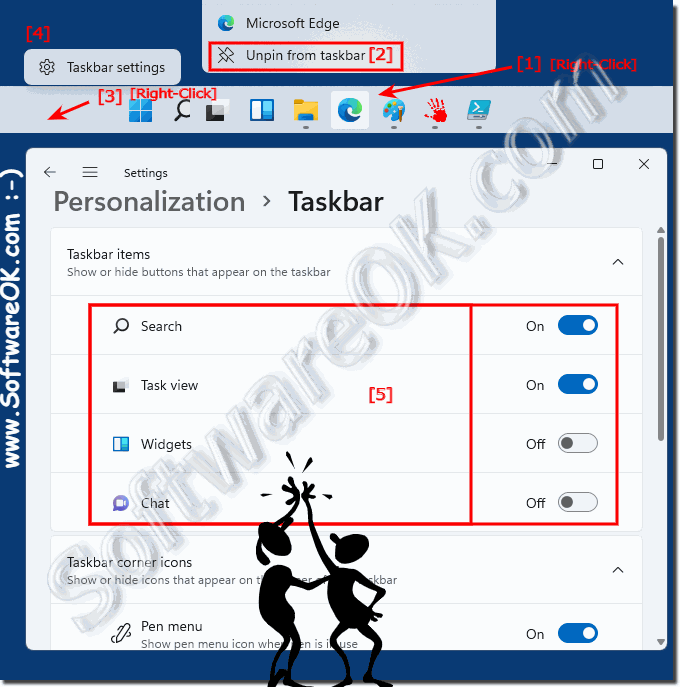 Info:

Not everyone wants the buttons they don't need pinned to their taskbar all the time, and Windows 11 had a handy right-click release option that could be used to quickly remove them. It is just a small additional step to open the menu in order to be able to change which standard Windows tools are pinned and which are not!



2.) More tips and information about taskbars, symbols and Co.!
The taskbar icons don't make Windows users entirely happy, but the Moto is less is more, so the taskbar is also a candidate for improvement. Here are more Windows 11 Taskbar links/tips that will help you more or less!





FAQ 138: Updated on: 26 August 2023 08:20