Rotating the desktop in Windows 11 works very easily, even if you don't need it that often or at least not on all devices!

Most modern graphics cards support keyboard shortcuts. Press CTRL + ALT + Up Arrow and your Windows 11 desktop is in landscape mode or CTRL + ALT + Left or Right Arrow, Down or Up Arrow and test all directions!


1.) Turning from the desktop in the settings!
1. Press the shortcut Windows + i 

2. Then via System to the Settings screen (on the right) 

3. And you can adjust the orientation and rotation of the desktop! 

(... see Image-1 Point 1 to 6)

Windows 11 also supports the classic rotation of the desktop / screen according to your needs. If you have an additional monitor that you want to use in portrait mode, other useful options may also be available. Here you have discovered ways to change your screen orientation in Windows 11!




(Image-1) How to rotate desktop on windows 11?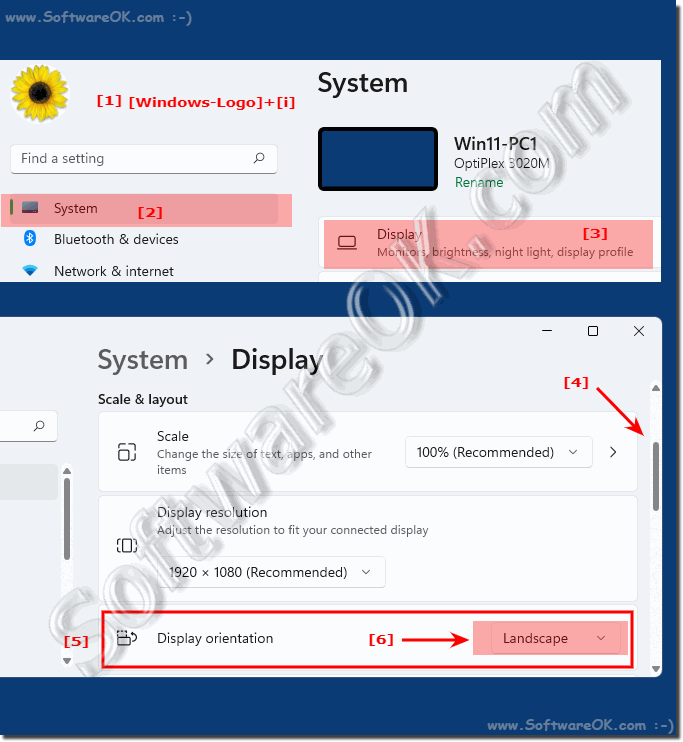 2.) More tips on desktop, settings and Co.!

Actually it is not the desktop / screen that is rotated but the content. This eliminates the planned headstand or other exercises. The correct alignment of the screen and desktop is still important. You can find more tips on this topic here. We help you to use your desktop more or less better!







FAQ 229: Updated on: 26 August 2023 07:12