Windows 11 has a disk cleanup for hard disks to clean up the SSD, HD, ... and to free up a little space!
1.) The Disk Cleanup in MS Windows 11 OS!

To start Disk Cleanup in Windows 11 , the fastest way is via the cleanmgr command
1. Via the Windows Run dialog (keyboard shortcut Windows logo + R)
2. Select the drive / hard drive

3. And select unnecessary files. 
(Image-1) The Windows 11 Disk-Cleanup for Hard Drives and SSDs!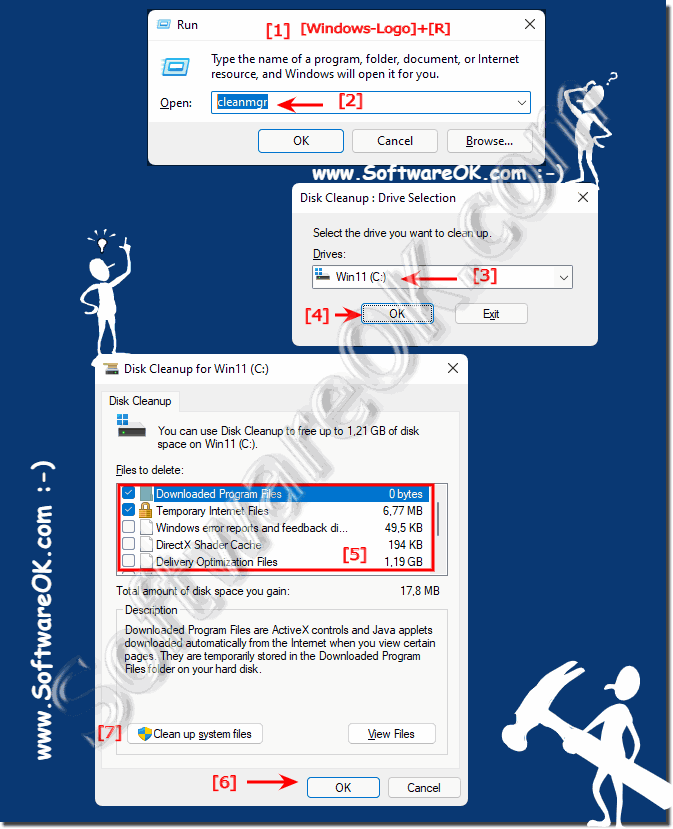 2.) Remove Programs and Features, System Restore and Shadow Copies!

When you click the Button "Clean up system files" in Windows 11 Disk Cleanup Manager you can see the tab More Options!

The Disk Cleanup will calculating how much space you will be able to free on SYSTEM (C:). This may take a few minutes to complete.

Now, your can see the Tab

"More Options"

 with Clean Up...  button for "Programs and Features" plus
"System Restore and Shadow Copies" 

(... see Image-1 Point 1  to 5)



(Image-2) Remove System Restore and Shadow Copies from Windows 11!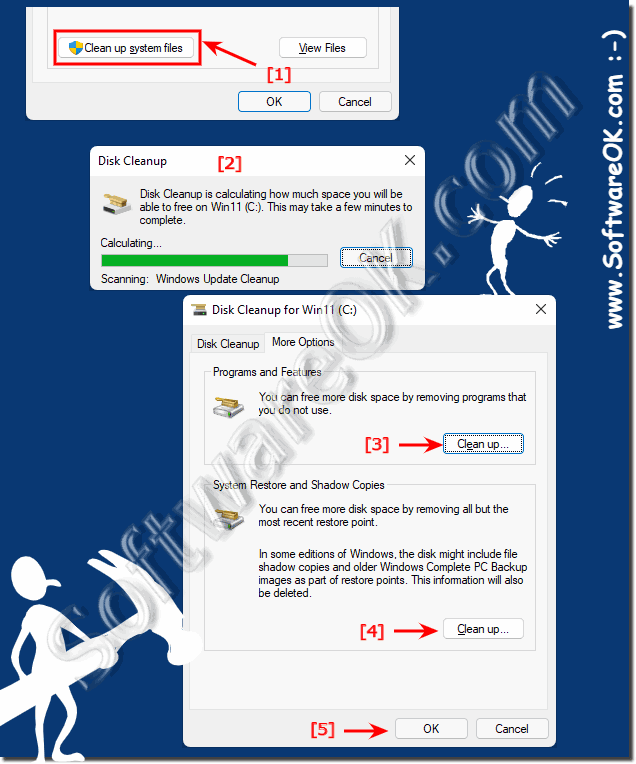 * Programs and Features.
This option opens Programs and Features in Control Panel, where you can uninstall programs that you no longer use. The Size column in Programs and Features shows how much disk space each program uses.
* System Restore and Shadow Copies.
With this option, you can delete all but the most recent restore point on the disk.
System Restore uses restore points to return your system files to an earlier point in time. If your computer is running normally, you can save disk space by deleting the earlier restore points. 
In some editions of Windows 11, restore points can include previous versions of files, known as shadow copies, and backup images created with Windows 11 Complete PC Backup. These files and images will also be deleted. For more information about System Restore, search Windows Help and Support for "system restore."
If you want to reduce the number of unnecessary Windows-11 files on your hard disk to free up disk space and help your computer run faster, use Disk Cleanup. It removes temporary files, empties the Recycle Bin, and removes a variety of system files and other items that you no longer need. For more information about deleting files from the Recycle Bin,
see Permanently delete files from the Recycle Bin
.
3.) ... Storage Memory cleanup in Windows 11 settings!
1. Open the Windows 11 settings eg with the keyboard shortcut 
Windows + i
2. Enter 
"Storage"
3. Open the  
storage e settings
(Image-3) Windows 11 storage cleanup in Windows settings!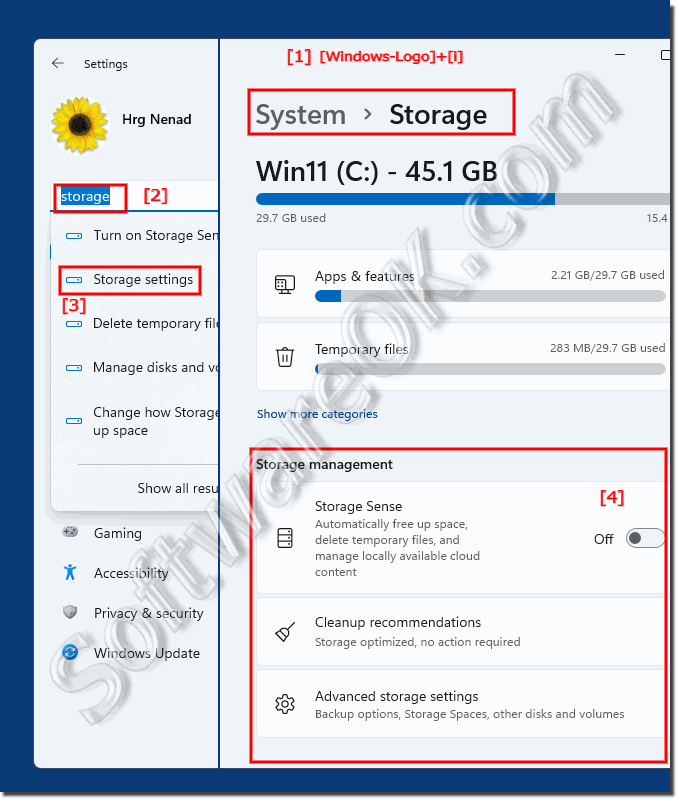 4.) ... Open in the data carrier with a right-click menu!
1. Open as always: ► 
This PC on Windows 11
2. For example, mark drive C:
3.
Right-click
or
context menu
key
4. And simply select
"Properties"
and the
General
Tab
5. Clean up the drive C 
(
... see Image-4 Point 1 to 5
)
(Image-4) Disk cleanup of hard disk C by right-clicking on Windows 11!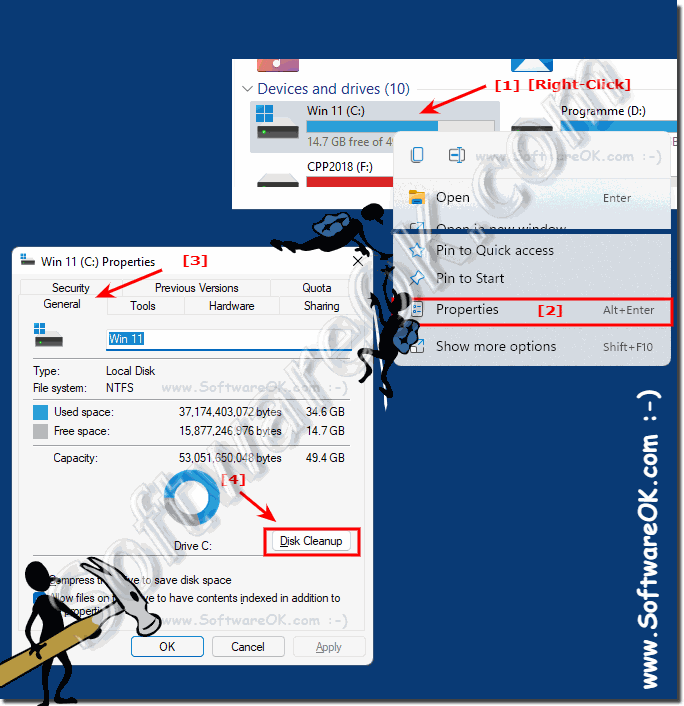 5.) ... More tips / links for order on the MS Windows 11 PC!



Unlike on other systems, working with different and multiple data carriers is not uncommon under Windows, which makes it all the more important to handle files, drives and folders well. This is not only the case on MS Windows 11, but on all other MS Windows and server operating systems. Here are other helpful links on this topic that you might also be interested in learning something new or understanding better!





FAQ 64: Updated on: 26 August 2023 06:44